Published: January 16, 2018
GREEN BAY, WI | Optima Life Science offers the TDC 125 to produce all current transdermal patches (TDS) and oral film strips (ODF) at a laboratory scale or in small production batches.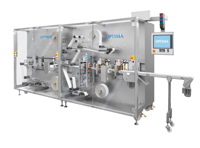 All the production and packaging processes can be validated before being transferred to larger production machines if required. The scalable machine is suitable for manufacturing product samples for clinical tests, for market launch, and even for subsequent production. In its simplest form, the system features intermittent operation. Alternatively, the system can be operated continuously with a high output for series production.
Company also offers the ImmuCoat system, a modular and scalable system for automatic coating of micro-titer plates for the manufacture of ELISA test-kits. All basic modules can be combined as desired. Equipped with a "plug and play" architecture, the basic modules reportedly can be connected together in the simplest way. Almost any product batches can be managed simultaneously and processed without the risk of mixups. As well as the basic models, the modular system can also accommodate special modules for drying and for short-term or long-term incubation as well as packaging functions.
This email address is being protected from spambots. You need JavaScript enabled to view it.