Published: September 15, 2017
JACKSONVILLE, FL | FPK Resources offers a new symposium, titled "A Map for Printers to Manufacture Flexible Packaging," that targets such prospective attendees as business owners of printing operations, including labels, shrink sleeve, folding carton, and rigid packaging with strategic interest in expanding sales and manufacturing into flexible packaging.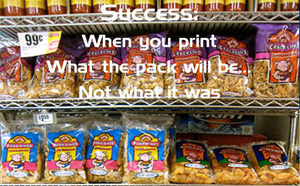 Planned for December 4–7, 2017, at the Georgia Power Customer Resource Ctr., Atlanta, GA, the event will teach supportive technical basics and strategies for press owners to navigate successfully the changing market and how to leverage the materials and supply chain. "It lays out a plan for press owners to use their machines to win coveted business in the flexible packaging industry," says Kelly Williams, partner in the newly formed FPK Resources organization.
Key areas of concentrated discussion over the course of four days with daily expert panels include the following:
Understanding Enormous Opportunities: history leading to today's global flexible packaging marketplace; breakdown of complexity of packaged consumer goods; mega trends; new technologies and market disruptors; future opportunities from the vantage points of CPGs, SMBs, retailers, e-commerce, printers, converters, etc.
How to Manufacture Flexible Packaging: films and how they're converted; recyclable materials; fitness for use; testing
Anticipating Market Needs: ERP; safety; speed to market; supply chain; stand-up pouches and equipment; sustainable packaging
Planning Checklist: action plan, setting profit goals
Organizers of the event include Kelly Williams, Tom Dunn, and Ginger Cushing, who describe themselves as a team of independent flexible packaging veterans who serve the broad variable data printing platform. Their experience reflects an understanding, they say, of the full range of conventional flexo, gravure, hybrid, inkjet, and Indigo printing methods to optimize supply chain relationships to market needs and opportunities.
To reserve your space, visit: www.fpkllc.com
This email address is being protected from spambots. You need JavaScript enabled to view it.