Published: June 06, 2017
GREENVILLE, SC | Package Concepts and Materials (PCM), a manufacturer of net-casings and non-oriented plastic casings used for commercially cooking processed meat and poultry, announces the addition of a 30,000-sq-ft production facility on its Greenville, SC, campus.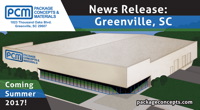 The expansion, set to be completed in summer 2017, will increase production of PCM's spice net-casing products and cook-in casings, and is expected to create 30 new jobs in the Greenville area.
In addition to this, the company says it will be better suited to collaborate with leading food manufacturers, universities, and raw material suppliers for enhanced production of quality consumer meat and poultry products. Aiding this will be a $2.5 million, seven-ply extrusion system which increases the company's cook-in casing capacity by more than 20%.
This email address is being protected from spambots. You need JavaScript enabled to view it.