Published: May 24, 2017
NORTH KINGSTOWN, RI | Toray Plastics (America) recently helped the University of Rhode Island break ground on a $125 million engineering complex. In 2014 Toray pledged $2 million for the project, which will produce a 190,000-sq-ft facility designed to foster interdisciplinary collaboration and innovation that can evolve to meet the technology-driven changes in all sectors of engineering.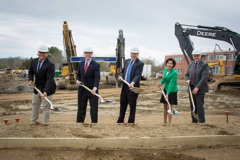 The first phase of the transformation, set for completion in summer 2019, of the engineering facilities marks the largest construction project in the university's history. The new building will house seven of the eight university engineering programs: biomedical, chemical, civil, computer, electrical, industrial, and systems and mechanical. Toray's gift grants the company naming rights for the atrium of the new building.
"Students coming out of the university, and specifically the College of Engineering, are exactly the type of workforce we need in Rhode Island in order for us to succeed locally, nationally, and even internationally," says Toray Plastics (America) president and CEO Mike Brandmeier. "The new buildings, labs, and work spaces will enhance the skills and abilities of the next generation of URI engineering graduates, making them even more valuable to those of us in the state who depend on their talent and expertise."
In addition to the pledge, Toray has contributed $2 million in gifts to URI's College of Engineering, primarily supporting the Toray Plastics of (America) Engineering Fellowship and the Toray Plastics of (America) Scholarship for undergraduate students. The company also offers internships and sponsors special engineering design projects for students to pursue during their senior year.
This email address is being protected from spambots. You need JavaScript enabled to view it.