Published: April 27, 2017
CINCINNATI, OH | ProAmpac has acquired Trinity Packaging Corporation, a flexible packaging company specializing in large-format packaging for the lawn and garden, food, and specialty industrial markets. Financial terms of the deal were not disclosed.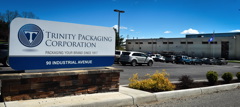 Trinity is headquartered in Armonk, NY, with operations in Rocky Mount, VA, and Buffalo, NY. ProAmpac, a global flexible packaging, operates primarily under the Prolamina, Ampac, and Tulsack brands. ProAmpac is owned by Pritzker Group Private Capital along with management and co-investors. The combined company will have 22 manufacturing sites and 3,000 employees supplying more than 5,000 customers in 90 countries. ProAmpac and Trinity serve a wide variety of end markets including food, pet care, healthcare, lawn care, retail, and secure packaging for the transport of cash and valuables.
ProAmpac CEO Greg Tucker says, "Trinity Packaging's legacy spans 100 years. They are a team of industry veterans with a great reputation for quality and service. I am confident that ProAmpac's innovation coupled with Trinity's capabilities will cement our role as strategic partners to our customers and suppliers."
Trinity Packaging will retain its name and become a separate division within ProAmpac. John H. Freund, who is celebrating his 60th year with the company, will continue with the combined company as a member of the ProAmpac board of directors. Peter Freund, former president of Trinity, says, "The combination of ProAmpac's management team coupled with the Pritzker Group's reputation for long-term stewardship made them both ideal partners for the Trinity family."
This email address is being protected from spambots. You need JavaScript enabled to view it.