Published: March 30, 2017
CHICAGO, IL | GPA, supplier of substrate solutions for digital, offset, and wide-format printing, announces the release of its Dry Toner Swatchbook. Company says this new tool for printers, designers, and marketers demonstrates the limitless possibilities when pairing its substrates with dry toner printing technology. It also serves as a symbol of the company's commitment to providing its customers with fresh opportunities for innovation, inspiration, and growth.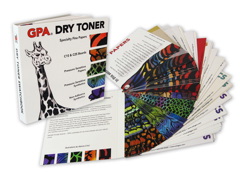 Reportedly, this pocket-sized resource packs a great amount of power into a compact form. Featuring 39 unique substrates—with many products exclusively available for the first time in North America from GPA—the swatchbook spans an large range of luxury and textured papers as well as synthetics. Highlights from this new collection include polyesters said to offer outstanding anti-static properties, hardworking synthetic papers, and PaperTyger Durable Papers for HP Indigo and digital presses that combine the benefits of papers and synthetics in one versatile sheet.
"GPA's new Dry Toner Swatchbook is far more than a collection of product samples—it's a world of possibilities now attainable thanks to advancements in digital print innovation," says Craig Surette, GPA's business development director for the Dry Toner Market. "What first grabs people is the breadth and depth of its scope; this kind of substrate diversity has never been available in North America under one roof. It even includes a range of specialty plastics guaranteed to perform on dry toner presses, which ultimately fills a gap in the marketplace. This swatchbook reinforces that GPA provides more than substrates; we're providing innovation that helps bring ideas to life."
This email address is being protected from spambots. You need JavaScript enabled to view it.