Published: February 21, 2017
ELIZABETHTOWN, KY | Flex Films, the film manufacturing arm of India's flexible packaging materials and solution company Uflex Limited, announces a polyester film said to obviate the problems posed by BON and PVC in pharmaceutical packaging. The film replaces the top and bottom substrates of the conventional cold formed Alu – Alu laminate with a new structure comprising 36-micron special polyester/50 micron soft aluminum foil/ 36-micron special polyester.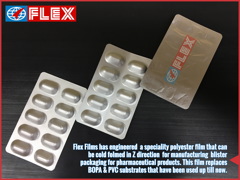 Company says the substrate can be laminated on both sides of aluminum foil without any problem. This is because its engineers reportedly have been successfully able to use metaphase morphology, which has made it possible to form the film in Z direction, which is a pre-requisite for blister packaging.
According to the company, conventional polyvinyl chloride and biaxially oriented polyamide, BOPA (BON) films have been extensively used in the cold formed pharma packaging industry. Eliminating BOPA and Polyvinyl Chloride (PVC) films in the cold formed Alu - Alu laminate blister pack for pharmaceuticals has remained a daunting task for packaging experts, company says. Reportedly, a conventional cold formed pharmaceutical blister pack gives off chlorine when it comes in contact with sunlight, which is harmful for the environment, contains plasticizers with phthalates linked to a host of health disorders, and leaves a high carbon. BOPA (BON) is also said to have challenges like high moisture absorption of 8%-10%, making its processing difficult, leading to de-lamination and impairing the ability of the film to be chemically primed.
Commenting about the major breakthrough that this special polyester film will bring about in the field of pharmaceutical packaging, Anantshree Chaturvedi, vice chairman & CEO, Flex Films International, says, "…Convertors until now were left with no option other than managing varied inventories of BON and PVC films separately. With the introduction of our specialized polyester film that will be laminated on both the sides of aluminum foil, the logistical hassles for convertors will surely go down."
He adds, "The moisture absorption of this film is as low as 0.8 percent, working out to almost 92 percent less than that of nylon, which is a big advantage. There is also a yield benefit in the case of the new laminate structure with no compromise on functionalities. This light-weighting of the laminate equates to lesser energy consumption at all the three critical stages of flexible packaging life cycle, i.e. manufacturing, transportation, and disposal."
This email address is being protected from spambots. You need JavaScript enabled to view it.