Published: February 17, 2017
PAWCATUCK, CT | Davis-Standard reports that Transam Extrusions Limited, a tubing and profile manufacturer, continues to invest in Davis-Standard extrusion equipment. Transam, based in Barton-Le-Clay, Bedfordshire, UK, has experienced significant growth over the past decade and produces a wide range of both flexible and rigid plastic pipes and profiles to 180 mm wide.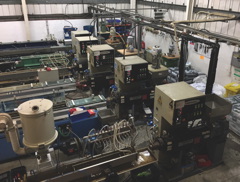 The relationship between the two companies has grown over the past decade, and has included investment in new Davis-standard extruders, screw technology, and other downstream equipment.
"Davis-Standard's expertise, dedication, and responsiveness to their customers goes beyond all expectations," says Transam managing director Russell Brazier. "Their equipment is extremely reliable, screw technology second to none, and we've been delighted with the technical staff that support and help us to concentrate on our growing business in the United Kingdom."
Most recently, Transam added a new Davis-Standard EB50 EuroBlue extruder. The EB50 EuroBlue is the sixth Davis-standard extruder, with associated downstream, to be installed at Transam. The machine was ordered and delivered within five days, reportedly resulting in minimal production delays for Transam's clients. In addition, Transam purchased a custom-built Davis-Standard water-bath designed specifically for the company's unique business requirements.
This email address is being protected from spambots. You need JavaScript enabled to view it.