Published: February 07, 2017, By Trina Tan Ker Wei
Back in 2010, Mars Chocolate Europe and Eurasia had a vision for a special packaging solution for its Mars and Snickers chocolate products.
Confectionary giant Mars has been in a four-year research & development program with Rodenburg Biopolymers, a Dutch producer of starch-based products. Their goal: To produce a bio-based film specifically for the Mars and Snickers chocolate product lines.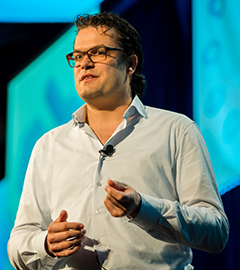 According to Thijs Rodenburg, CEO of Rodenburg Biopolymers, in the original concept specification, Mars was looking to switch to a bio-based packaging material delivering a lower carbon footprint than current packaging. The new packaging material solution also had to be scalable into other industries – and had to be "sellable" into other applications within the group's SKUs to ensure there was an economy of scale amortizing the development costs and making the material affordable.
"Mars explained that they were looking for a type of bioplastics that was just not available in the market at the time," explained Rodenburg, "The focus was to use a packaging material that is sustainable and uses second-generation feedstock – one that didn't compete with the food chain."
Biodegradability was less of a concern for Mars and wasn't considered a priority because the company was concerned consumers would not really understand what biodegradability really means and didn't want consumers thinking its packaging would just simply magically biodegrade, dissolve into the environment, and the wraps could be casually thrown away.
Further discussions followed and the project began in 2012, taking almost four years from the development of the starch compound to packaging production and on to consumer research and feedback.
The compound for the packaging material mainly comprises a starch derived from waste potato peelings—which presents no food or animal feedstock competition in the food chain, which was Mars' primary specification. It also contains "some" polylactic acid (PLA), according to Rodenburg.
Ironing out the wrinkles
Taghleef, Mars' packaging converter, was enlisted to manufacture the film at one of its existing BOPP lines in Europe. This process took four production trials before an acceptable packaging film was manufactured, as Rodenburg explained. "The starch compound did not perform as expected at the first trial—there were a lot of bubbles and folds in the webbing. At our second trial, we decided to dry the compound, but that led to it becoming sticky and blocking the drying process.
"At our third attempt, we were able to produce the film and stretch it to the required length and width."
Rodenburg says, "Printing on the film was challenging, especially since at the time, the starch-based packaging was a new material." Austrian converter Mondi was given the job of performing the final conversion, but according to Rodenburg, "they had problems with wrinkles in the film in the print process."
The project succeeded on the fourth attempt, and the production line could run at full speed, packaging both Mars and Snickers bars.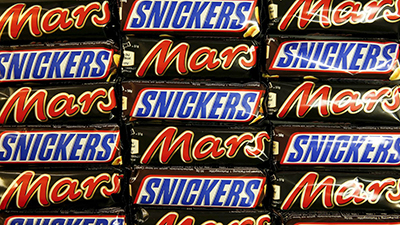 "I think the only reason why we were successful in developing this film and meeting customer expectations was that we cooperated very well within the development chain—big brand owner, big converter, big printer—that helped in the co-creation of the product. I think that was the key to success," Rodenburg says, adding, "We had to make sure the packaging material worked on Taghleef's and Mondi's legacy machinery with no additional investment in new equipment. In producing this project, some changes in set-points had to be made, but no major investments or changes to the production lines were needed. This was critical for success in this project.
"I think converters are not investing a lot of money yet to adapt their lines to accommodate bioplastics," he continued. "It is still considered a niche material compared to conventional plastics, and it makes sense that these big companies don't have to change to cater just to a niche market."
Highlighting the need for good return on investment and adequate production volumes to make such investments worthwhile, Rodenburg said, "We needed to solve that issue by tailor-making the starch for both the Taghleef and Mondi production line, and we succeeded in doing that."
The end product, chocolate, is not the easiest of products to package due to smell taste preservation and sensitivity, but Rodenburg is confident that this new starch-based packaging material fulfills the product protection requirements.
"We're not there yet; we don't have the perfect product," Rodenburg said. "We still need to make some modifications and improvements to the compound; but at least we have started. We have a compound that works and is recyclable at production [film extrusion] which helps reduce production waste and bring material cost down.
"I think it is a very good first step."
Sample testing
Following the successful production trials, Mars launched a six-month market study to test consumer perceptions as to whether they noticed any difference in the packaging.
While the new film has less gloss and shine compared to the original packaging, this turned out to be a bonus as consumers viewed that as a positive change because it gives the packaged product a "more natural look and natural perception of the chocolate," explained Rodenburg. Consumers also appreciated that Mars was taking steps to create a sustainable product.
"I think we were very lucky with Mars. We are a small family-owned company; Mars is significantly larger, but they are still family-owned and you can feel it in the people working for the brand owner—they have a very strong attitude towards the core values of Mars, which is sustainability; they really express that message; and they really stand up for that," noted Rodenburg.
"I think one of the interesting parts of this project is that although we had a lot of issues developing the film, Mars still believed in the success of the project, and they still kept on supporting the film development. I think with many brand owners, that is not so obvious—i.e., if you don't meet some deadlines, even for a complicated product such as this, you'll kill the project.
"I think Mars really cares for the environment," concluded Rodenburg, "and they feel they need to do something for the next generation, to really look for sustainable solutions."
The new starch-based packaging material, although already proven at commercial production level, has yet to be officially launched in the European market with no date finalized for a full-scale rollout.
ABOUT THE AUTHOR
Trina Tan Ker Wei is a Singapore-based packaging journalist and editor of Packaging Business Insight Asia newsletter and PackWebasia.com. She is secretary general of the International Packaging Press Organization (IPPO). Contact her at This email address is being protected from spambots. You need JavaScript enabled to view it..
RELATED ARTICLE