Published: December 12, 2016
PARSIPPANY,NJ | ASACLEAN, a commercial purging compound for thermoplastic injection molders and extruders, has introduced a new UF2 Grade purging compound said to be ideal for blown and cast film extrusion applications. Reportedly enables faster changeovers for reduced equipment downtime, resulting in increased productivity and greater cost savings for plastics manufacturers.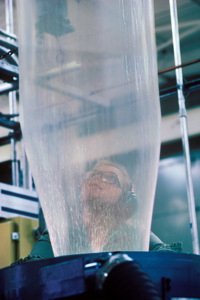 In order to increase efficiency and productivity, plastics processors look to accomplish several goals, including fast color and material changes, and effective removal of color and carbon contamination. Company says UF2 grade compound achieves these objectives, as it can be purged through a die without removing it, can effectively remove gels and contamination that is not carbonized, and has excellent compatibility with polyethylene (PE) resins.
The purging compound is recommended for color changes, material changes, hot runner cleaning, and shutdown/sealing. Use of UF2 grade compound is said to require less product than similar products and results in quicker cleanup. For blown film applications, compound also helps manufacturers "hold the bubble," minimizing downtime to increase productivity.
According to company, recently a customer cost-savings analysis of an extrusion PE color change was performed on a machine with a 4.5-in. die and a barrel capacity of 50 lbs, where black PE was being replaced with natural PE for the next run. When the customer's accustomed "next resin" purging method was replaced with the UF2 Grade, the results clearly indicated a reduction of machine downtime due to faster changeover and less wasted material. Overall, the 65% cost reduction amounted to a savings of more than $23,000 annually.
With a processing temperature range of 170 deg C–320 deg C (340 deg F–610 deg F), the UF2 Grade requires 0.0004 in. (0.01 mm) clearance for hot runner gates and extrusion dies. UF2 grade can pass through as tight as 200-mesh extrusion screen packs when only one layer of mesh is used, reports company.
This email address is being protected from spambots. You need JavaScript enabled to view it.