Published: December 19, 2016, By Claudia Hine
For package converters, it's all about the seal. A tough, puncture-resistant coextruded packaging film captures this year's top honor.

Converting plants need a wide variety of materials and equipment to manufacture their product lines, and at PFFC, we've made it our mission to assist you in becoming more efficient and profitable in your business practices. Whether actively shopping or casually browsing, readers of our E-Clips e-newsletter always find new technology that captures their attention.
Our annual end-of-year roundup comprises the ten products featured in E-Clips that received the most "clicks" from our readers. These Top 10 reflect the diverse needs of converters, from adhesives and additives to slitters and shrink film.
Jindal SealTOUGH XE400 Film
SealTOUGH XE400 clear, biaxially oriented film is said to provide excellent puncture resistance, enhanced clarity, improved modulus, and seals that can exceed 5,000g/25mm. This technology reported enables significant downgauging when compared to traditional blown PE sealant films. Packaging designs utilizing SealTOUGH contribute to a sustainable solution through source reduction and recycling.
SealTOUGH is available in four gauges: 18, 23, 30, and 40 μm. Featuring a treated skin on one side, SealTOUGH is ideal for extrusion and adhesive lamination. The low-MST sealant skin on the other side provides superior seal strength and integrity. SealTOUGH can be used in a number of formats, including VFFS, HFFS, overwrap, bags, and pouches.
Multi-Plastics MULTI-LID LIDDING FILMS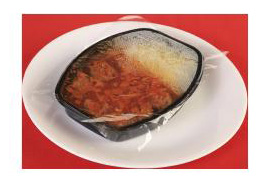 The MULTI-Lid line of lidding films is engineered to achieve strong peels with various substrates. The line contains five different polyester film laminations offering multiple options for peelable seals to a multitude of tray resins. Microwavable, ovenable, chillable, or freezable options are available. All can be printed or laminated to other films, if desired.
Products include General Purpose coated polyester for seals to CPET, OPS, and HIPS; Dual Ovenable Coated polyester for APET, RPET ready meal, and paperboard trays; Laminated PE-based film for PP trays; Clear Multi-Purpose and White Multi-Purpose; and Weld Seal Ovenable Polyester with one side sealable and one side corona-treated.
Avery Dennison Photo-Reactive Adhesive Technology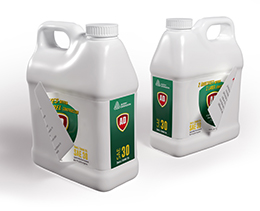 With Photo-Reactive (PR) Adhesive Technology, an adhesive can easily be transformed from permanent to removable by exposing the adhesive to the UV light. The permanent vs removable performance is controlled by printing a black graphic, or "shadow mask," on the backside of the liner. The adhesive is then irreversibly modified by exposing it to a high-intensity UV light during conversion. The area under the mask remains permanent while the exposed area becomes removable.
PR facilitates customized constructions that require both permanent and removable performance. The PR process can be done on almost any press that has a UV station, without the need to qualify and use of deadeners to achieve removable performance. A versatile construction, 2 Mil White BOPP TC/PR1000/40#BG, is available in the Select Solutions Removables Portfolio.
Clear Lam SealChoice PET Lidding Film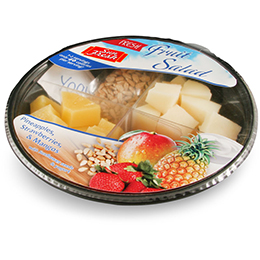 SealChoice PET Lidding Films, SP705 and SP707, are designed to seal to APET (amorphous polyethylene terephthalate), rPET (recycled polyethylene terephthalate) and CPET (crystallizable polyethylene terephthalate). Recommended applications include: SealChoice SP705 for snack kits, meal kits, produce, milk, lunch meat, and personal care items.
SealChoice SP707 was developed for high pressure pasteurization processing (HPP) of premium food products, such as deli platters, dips, side dishes, and fresh fruits and vegetables.
NDC FilmPro Infrared Gauge
The FilmPRO modular high-performance infrared thickness sensor is a universal solution for film, sheet, and coating measurement applications, including thin film to thick sheet products with multi-layer discrimination. New optical engine has been enhanced to improve signal-to-noise, accuracy, web flutter, and the effect of optical interference.
Unit measures clear, pigmented, voided/pearlized products, plus tints in total or as stripes. It measures the true thickness and weight of voided, microporous, or breathable films and derived density. It can measure costly barrier materials, such as Nylon, EVOH, or PVDC simultaneously with other polymers such as PE, PP, or Ionomer.
Foster On-A-Roll Lifter Jumbo
The On-A-Roll Lifter Jumbo is one of the largest models in the Foster line and incorporates ergonomic features enabling press operators to quickly and effortlessly lift media as heavy as 990 lb (450 kg), with diameters as great as 19.6 in. (50 cm), and widths as great as 16 ft, 5 in. (5 m). A single press operator can safely manipulate media rolls in shops with limited floor space and single-handedly position fresh rolls for quick and easy mounting. Material damage is reduced or eliminated when moving rolls.
Unit offers rugged construction for long life. A hydraulic foot pump makes lifting effortless, while ergonomic push bar permits easy maneuvering of heavy rolls.
Ampacet Paper 2.0 Additive Masterbatch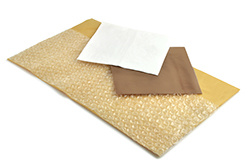 Ampacet Paper 2.0 Additive Masterbatch, for use in flexible plastic film, offers the visual and tactile appeal of paper with the added benefits of strength and moisture barrier properties.It imparts the hand-crafted look of paper combined with various textural options, and all with the multi-faceted functionality of flexible film, resulting in packaging with shelf appeal that engages the consumer. It offers a sustainable, cost-effective alternative to paper.
For flexible film converters, Paper 2.0, when used as an outer layer of a multi-layer film construction, eliminates the need for secondary paper lamination processes necessary with traditional paper products and the storage demands of a bulky paper inventory.
Paper 2.0, with its unique multi-layer construction and combination of additives and resins, offers excellent printability, tear resistance, film stiffness and deadfold properties. Customization options include varied film thicknesses, textures from smooth to coarse and colors ranging from 'natural' buff and kraft paper to a multitude of hues and related special effects.
Well suited for a variety of applications, including shopping bags, branded and novelty tape, shipping envelopes, meat and bakery wrapping, pet food bags and stand-up food pouches. Paper 2.0 can also be used for applications such as banners, maps, menus, beverage labels, book jackets, instruction manuals and house wrap.
Klockner Pentaplast Pentalabel ClearFloat Shrink Label Film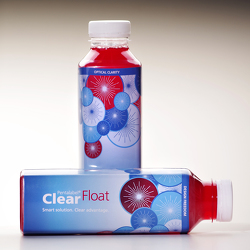 Pentalabel Clearfloat shrink label film is designed to satisfy the growing market need for films that meet the standards set by the recycling community, while providing the clarity, processability and durability required of today's consumer labels. Film meets the Design for Recycling Guidelines as set by the Assn. of Postconsumer Plastics Recyclers (APR), providing a higher yield of PET container recycling. Reportedly, it is engineered to offer high shrink percentages for optimal design freedom and visual impact.
The ClearFloat technology is called ideal for new or redesigned packaging, including that with highly contoured shapes. Applications include consumer packaged goods using PET bottle for beverage, dairy, food, Health and Beauty, Home and Garden, and Household. In addition, the technology includes the capability of using ink adhesion that passes APR label protocol with gravure, flexographic, digital, and rotary offset printing processes.
Catbridge Machinery 900-M Duplex Center Slitter/Rewinder
The American-made 900-M Duplex Center Slitter/Rewinder is designed for the flexible packaging industry and offers numerous
productivity features. The modular format offers a choice of configurations and the adaptability to grow with user's business. Productivity components include robust construction for 24/7 operations as well as cutting-edge technologies and special features to help ensure efficiency and accuracy. An advanced yet user-friendly control system coordinates functions and lets operators perform many time-saving, high-level production and maintenance tasks.
For versatility, the 900-M can be equipped to handle a variety of primary films, flexible packaging laminations, and papers. This duplex slitter/rewinder also can be configured for specific customer needs by allowing for multiple slitting methods and unwind options.
Toray Barrialox SBR2 PET Film
Barrialox SBR2 is a high-barrier, transparent, aluminum oxide-coated polyester film for retort pouch applications. It offers converters a new generation of ALOX-coated film that has excellent thermal stability and superior mechanical properties, including high strength and dimensional stability, enabling it to withstand the rigors of the converting process and the intense high heat and pressure of retort sterilization.
The finished, post-retort pouch has excellent oxygen- and moisture-barrier durability. Typical value, flat sheet oxygen- and moisture-barrier transmission rates for Barrialox SBR2 are 0.01cc/100 in. and 0.02grams/100 in. respectively. Barrialox SBR2 resists pinholing, flex-cracking, and scuffing and abrasion. In standard laminations, SBR2 is reverse-printed to create a colorful, attractive package that can be microwaved.
Film can be laminated with Toray's TreaTear DR72 film, a directional-tear CPP sealant film that provides an easy, straight tear for opening the package. Barrialox SBR2 also can be used in the manufacture of non-retort clear packaging and in lidding lamination applications.
Want to vote for the best new products of 2017? Sign up here to receive E-Clips, our weekly e-mail newsletter. In addition to new products, you'll find technical advice, blogs, videos, and other industry news.