Published: October 26, 2016
NOIDA, INDIA | Uflex, flexible packaging materials and solutions company, reports the launch of FLEXALOXPROTECT F-PGX, a 9.5-micron specialty ALOx polyester film. Company says this material, engineered by Uflex's fully owned subsidiary Flex Americas S.A. de C.V., Tamaulipas, Mexico, upholds its commitment to downgauging and light weighting.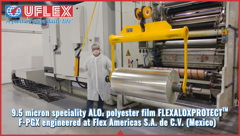 According to Uflex, there is a growing demand for transparent flexible packaging that allows retail customers to see through and check the quality of the product packed inside to their satisfaction. Conventionally metallized films have been used to impart enhanced barrier properties to laminates, but metallization renders the film opaque. The PET ALOx film, says company, can offer better barrier properties while still being transparent.
Film is also said to bring cost savings through better yield and to exhibit excellent barrier for oxygen and water vapor despite how thin it is. There is no need for a sandwich (barrier) layer. The PET ALOx film can be reverse printed and then laminated with a sealing substrate. Depending upon the barrier properties required by the product to be packed, ALOx coated films can be used in 2-ply structures right up to multilayered laminates.
Film complies with EC and FDA regulations for food contact and can be used in manufacturing laminates for packing dried meat, fresh food, snacks, confectionery, microwavable foods, retort convenience food, cheese, baked goods, drinks, pharmaceutical, and medical products.
Pramod Sirsamkar, president—Technical & New Product Development (Films), Uflex, says, "PET ALOx is a significantly downgauged transparent barrier film which by itself is its biggest USP. Besides excellent barrier properties, the film exhibits superior ink anchorage, suitability for retort applications, imparts strength to the ensuing laminate, and has optimum coefficient of friction, thereby offering great machinability to convertors."
This email address is being protected from spambots. You need JavaScript enabled to view it.