Published: September 29, 2016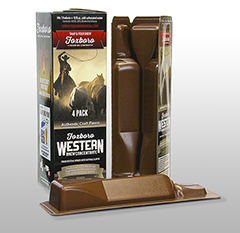 MARLTON, NJ | Technical Help in Engineering and Marketing (T.H.E.M.) is providing contract packaging services for the introduction of a line of innovative craft beer concentrates from the Foxboro Brewing Co. Inc.. T.H.E.M. provides contract manufacturing and packaging services for a number of global consumer brands and retailers in the form of flexible stick packs, pouches, and other single-use flexible packaging formats; in this particular case, the Snapsil easy-open portion pack.
"We are extremely pleased to be working with Foxboro and Snapsil, two leading innovators in their respective industries," commented Neil Kozarsky, CEO and President of T.H.E.M. "This is a great example of how collaboration between consumer-savvy brands and inventive technology can generate marketplace opportunities."
A search for the ideal packaging solution led Foxboro to T.H.E.M., which promotes the Snapsil technology to North American-based consumer packaged goods (CPG) customers. Snapsil has developed a range of dispensing designs, enabling simple and controlled product release for a variety of unit-dose and single-serve consumer products. The unique packaging format was introduced and initially offered through several U.S.-based providers. Today, T.H.E.M. supports its exclusive North American Snapsil partnership with product evaluation, testing, and contract packaging services.
Recently introduced to consumers, Foxboro Western Spirited Brew Concentrate is an American Lager, and the first in a line of four varieties that include Dockside Pale Ale, Iron Horse Amber Ale, and Foxboro Heritage, a traditional pilsner. Each will be available in 50ml Snapsil packs, either individually or in a 4-pack box. The proprietary brewing process uses the same natural brewing ingredients as regular beers and ales without heat reduction to preserve the full flavor profile. Combining the brew concentrate with 10 ounces of carbonated water produces a ready-to-drink 12 oz. beverage. The product may be used with Kohl+Frisch Sparkling Beverage Systems, SodaStream Sparkling Water Makers, or any sparkling bottled water.
"We knew T.H.E.M. by reputation from the company's successful launch of single-serve stick packs," said Foxboro co-founder and COO Charn Rai. "Right from the start, they recognized the magnitude of the opportunity our product represented, and what we were looking for in a unique packaging solution."
Snapsil semi-rigid containers feature a patented, audible 'snap-opening' function that allows consumers to easily open the package and dispense the contents with one hand. The snap-opening function is integrated into the lower web of the thermoformed pack and there is no requirement for any type of perforation of the film in the opening area of the portion pack. This provides uncompromised barrier properties for package contents.
"It didn't make sense to put our Foxboro Spirited Brews in a typical, everyday package," adds Rai. "Our beer concentrate is a unique, disruptive product, so we wanted the packaging to be just as different and special. Just as important, it had to be user friendly."
Much like the broader food and beverage sector before it, the alcohol products category is beginning to embrace the advantages of single-serve, and T.H.E.M. has been preparing accordingly. The company's Food facility in Marlton, NJ, has been approved for the storage, packaging, and distribution of alcohol-based products by the Bureau of Alcohol, Tobacco, Firearms and Explosives (ATF). The facility is also FDA-registered, Kosher and USDA Organic certified, and certified to package dietary supplements. The plant has a Safety Food Quality (SQF) Level 2 Certification, and achieved a perfect 100 SQF rating on its latest audit.
T.H.E.M. has seen steady growth and interest in many application areas and is fully equipped to support leading global brands with evaluation, test marketing and initial production scale-up. Its form-fill-sealing operations accommodate both liquid and dry products. In addition to food and beverage products, the company provides contract packaging services for nutraceuticals, pharmaceuticals, personal care products, and energy supplements.
T.H.E.M. recently announced plans to open a new 20,000 sq. ft. contract packaging facility dedicated to Non-Food segments in October. The new operation is conveniently located in Mt. Laurel, NJ, 10 minutes from its Marlton, NJ headquarters. The installation will accommodate non-food packaging technologies including Snapsil easy-open portion packs, as well as other single-dose formats.