Published: September 19, 2016
STOW, OH | Mactac reports the launch of a new static cling vinyl film to its continually growing product portfolio. The 6.0-mil static cling is said to be ideal for promotional window graphics and automotive oil change decals. It is available in white-gloss (VCL0034) and clear-gloss (VAL0034) varieties and features a proprietary topcoat for printing.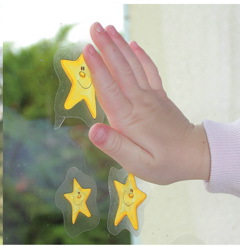 It is printable with water-based flexographic, ultraviolet (UV) flexographic, offset, and screen inks, as well as conventional or UV-curable offset and lithographic inks, and the liner can be backside printed. Additionally, it is protected by a 60# release liner, which company says delivers excellent stability and easy handling for various die-cutting processes
"[The] new static cling offers our customers an excellent, high-quality solution in the cling vinyl film space," says Kim Hensley, marketing manager, Mactac Performance Adhesives Group. "By leveraging our extensive experience in the design and development of pressure-sensitive vinyl films, we created this film with many of the same characteristics Mactac customers have come to expect, such as superior printability and outstanding flexibility, for an exceptional finished product."
Soft and flexible, the self-clinging film can be quickly and easily applied to and removed from most glass and other high-polished or smooth surfaces, like stainless steel. Typical applications include the following:
Glass or window advertising
Promotional and point-of-purchase window decals
Automotive oil change or other automotive window decals
Price stickers
Licensed graphics
Refrigerator graphics
Reusable seasonal decals
The film is said to exhibit excellent resistance to chemicals, including commercial window cleaners and features a 2-yr durability when used for indoor window applications and durability of up to six months for outdoor window applications.
This email address is being protected from spambots. You need JavaScript enabled to view it.