Published: September 06, 2016
LEATHERHEAD, SURREY, UK | The 8th annual Specialty Papers US takes place September 21–23, 2016, at McCormick Place, Chicago, IL. Organizers Smithers Pira and TAPPI have released the complete agenda.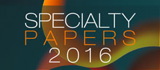 The event will kick off with an Eastman-sponsored networking reception on Wednesday, September 21, at Goose Island Brewery.
The agenda will cover a wide range of topics detailing markets, myths, trends, and opportunities. Specifics include flexible packaging, pet food packaging, how restaurants are using paper packaging, coatings, transforming a 175-year-old, paper company to one that fits the 21 Century, and BCTMP in paper, tissue, and packaging.
This email address is being protected from spambots. You need JavaScript enabled to view it.