Published: August 25, 2016
BERGISCH GLADBACH, GERMANY | Zanders, a globally active specialist in labeling and packaging solutions, is launching a new oil- and grease-resistant (OGR) food contact paper Zanbarrier OGR. In the future, Zanbarrier will also be available in other barrier variations, rounding off the range of flexible packaging paper.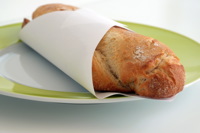 Company has developed the flexible food contact paper specially for products containing fat, primarily in the food domain. The uncoated product, which is said to be moisture-proof, is suitable for fast food packaging such as kebab or French fry wrappers, for butter wrapping, as release paper for fatty and moist food products, or as lamination on pizza and bakery boxes.
In addition to the OGR variant, the company is working on further barriers, including those dedicated for use with mineral oils, water, and steam, or as aroma protection. "Our decades of experience in the use of high-performance technologies for surface treatments has enabled us to test and implement all different kinds of barriers," says Jakob Jonsson, sales director at Zanders. "We can provide our customers with flexible and targeted solutions for their individual needs. With our high-performance barrier papers, we offer an environmentally friendly alternative to plastic packaging."
This email address is being protected from spambots. You need JavaScript enabled to view it.