Published: July 07, 2016
NORTH KINGSTOWN, RI | Toray Plastics (America), US manufacturer of polypropylene, polyester, metallized, and bio-based films, announces the introduction of LumiLid XL7AF film, an anti-fog PET lidding film for use with fresh and refrigerated food that is packaged in polypropylene (PP) trays, including mineral-filled PP trays.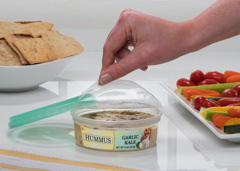 Said to be easy to peel and able to be microwaved, the new XL7AF lidding film is enhanced with a proprietary chemically formulated surface for anti-fog performance, offering what company says is a clear, clean, fresh-looking package.
The film reportedly also has a robust sealant layer, which is achieved by means of company's proprietary extrusion-coated sealant blend. When XL7AF is applied to the PP tray, it is said to form a strong, consistent, protective seal, sealing even through overfill on the rim of the tray.
"LumiLid XL7AF was developed for a solution to the problem of visible, undesirable condensation that can occur with fresh food packaged in clear-lidded trays," says Milan Moscaritolo, senior director of sales and marketing, Lumirror Division. "New XL7AF film's anti-fog performance contributes to an attractive presentation, and the strong seal helps keep food fresh. Those qualities are essential for brand integrity."
Film has a broad sealing range of between 200–350 deg F for PP trays. It is available in 128, 164, and 200 gauges: the 164- and 200-gauges are designed for a robust narrow matrix rewind. Film is FDA compliant, made without solvents, and available in bio-based versions made from renewable feedstock.
This email address is being protected from spambots. You need JavaScript enabled to view it.