Published: June 17, 2016
CHICAGO, IL | GPA announces the addition of Ultra Digital Cohesive Cover Paper to its collection of substrates for HP Indigo presses. This new paper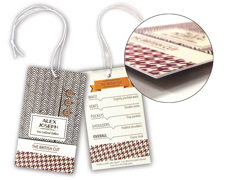 reportedly makes it easier r to create double-thick applications without special equipment and boasts 20% added thickness over similar products in the marketplace.
Company says the paper makes it simple to create luxuriously thick 34-pt applications, and its compatibility with a variety of finishing processes ensures maximum post-press versatility. It can be die-cut, glued, laminated, UV coated, and foil stamped for customized applications.
This sheet's premium formulation promises superior ink adhesion, exceptional print quality, and beautiful image reproduction on HP Indigo presses. Its base sheet is a premium, bright white facestock with a blue-white shade that provides a vibrant backdrop for applications that call for added impact and higher perceived value. There are no liners to contend with. To use this paper, just print, apply pressure, and finish as normal.
This email address is being protected from spambots. You need JavaScript enabled to view it.