Published: March 18, 2016
PIACENZA, ITALY | BOBST and several industry partners convened in Cairo, Egypt, recently to meet representatives of the Egyptian flexible packaging and label converting industries who attended the roadshow. Partners included Apex International, Atlas Converting, COIM, DEC Impianti, Kodak, Reifenhäuser, and Rossini.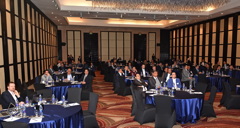 The equipment presentations spotlighted the performance and technologies of printing and converting equipment throughout the production chain, for both flexible packaging and labels, from film extrusion to slitting/rewinding, by way of vacuum metallizing, flexo and gravure printing, lamination, extrusion coating, and coating. These were complemented by updates on new-generation, high-performance adhesives and on food contact legislation, flexo plate technology, printing sleeves and rollers, the future of flexo with fixed palettes, and solvent recovery systems for flexible packaging.
"Despite the economic and political uncertainties, demand for flexible packaging is growing and the local industry continues to make progress," says Roy Obeid, Zone Business Director, BOBST Business Unit Web-fed. "This seminar illustrated ways that enable our customers to unlock hidden profit potential within converting and printing operations, while still ensuring the highest levels of output quality. This was not only true for equipment, peripheral devices and systems, but also for services. The timeliness, efficiency, and quality of services must support the installed equipment in order to make it always perform at its very best.
Sherif Sidhom, CEO of Sidhom Co., co-hosts of the roadshow, says, "For many years we have been the BOBST agent in Egypt for their range of web-fed equipment, and we have a solidly established position in the printing and converting market for wide-web equipment. Further to their acquisition last year of the Italian company Nuova Gidue, which is now Bobst Firenze, BOBST has extended its solutions in the different segments of the label industry to now encompass narrow web printing and converting equipment. The roadshow has provided us with a tremendous opportunity to touch base with narrow web and label converters, along with existing BOBST customers, which is invaluable for the development of our business in this sector of the industry."
This email address is being protected from spambots. You need JavaScript enabled to view it.