Published: December 01, 2015, By Brad Hansen
CHILD-GUARD closure is designed to integrate into existing packaging formats.

According to the World Health Org. (WHO) and UNICEF's World Report on Child Injury Prevention, "Child-resistant packaging is one of the best-documented successes in preventing the unintentional poisoning of children."1 In fact, prior to the enactment of the Poison Prevention Packaging Act (PPPA) in 1970—which specified the first requirements in the US for child-resistant packaging—pediatricians widely considered poisoning by common household substances to be the leading cause of injuries for children under five years old.2
Until recently, however, products requiring child resistance were relegated to rigid containers, as flexible packaging options were limited and costly. A flexible packaging solution that met the criteria for child-resistance and was not prohibitively expensive would allow for a wide variety of product segments to convert from rigid containers to flexible for the first time. Now, as manufacturers across a wide range of industries seek to gain the sustainability and cost-saving benefits of flexible substrates—catapulting the format's popularity—a child-resistant packaging option appears to be the logical and necessary next step in the evolution of child-resistance.
A Brief History of Child-Resistant Packaging
In the 1950s, easy-to-use products designed to clean the home, maintain the lawn, and service the car grew in the marketplace and thus became more readily available in the home. The proliferation of these household chemicals put children at greater risk of ingesting poisonous materials in their immediate environment. Young children are especially susceptible to the ingestion of poisons, as they are inquisitive by nature and discover the world around them by grasping for objects and often putting them in their mouths. They are also smaller in size and have a less-developed physiology, making a toxic dose much smaller than in an adult.
Many of the early attempts at poison prevention centered on public awareness, such as designating the third week in March as National Poison Prevention Week, and the labeling of hazardous substances on the package—mandated by the 1960 Hazardous Substances Labeling Act. However, despite these efforts, there were 450 reported child deaths in 1962 and several more instances of physical harm to children due to poisonings.3 An increasing level of concern about the problem culminated in the passage of the PPPA by Congress in 1970. Backed by a number of studies proving the effectiveness of child-resistant packaging, the PPPA was designed to prevent children from unintentionally ingesting hazardous household substances by mandating that certain products—such as chemical products, cosmetics, mouthwash, drugs, and dietary supplements—be kept in "special packaging." The PPPA defines special packaging as "Packaging that is designed or constructed to be significantly difficult for children under 5 years of age to open or obtain a toxic or harmful amount of the substance contained therein within a reasonable time and not difficult for normal adults to use properly, but does not mean packaging which all such children cannot open or obtain a toxic or harmful amount within a reasonable time."4
The introduction of child-resistant packaging as a result of the PPPA has been enormously effective in reducing the frequency and severity of incidences involving the ingestion of hazardous substances among young children. WHO and UNICEF estimate that, "In the United States, the annual rate of unintentional ingestion of 15 regulated substances in children younger than 5 years fell from 5.7 per 1000 in 1973 to 3.4 per 1000 children in 1978—with nearly 200,000 unintentional ingestions prevented during that period."5
Putting the Package to the Test
In order to quantify a package design's effectiveness in preventing a child from gaining access to a hazardous product, the Consumer Product Safety Commission (CPSC), which retains the authority to enforce the PPPA and require special packaging of regulated products, monitors human performance testing.

Children between the ages of 42 and 51 months old are given the package in question and instructed to attempt to open it. A child is initially given five minutes to open the package. At the end of this allotted time, he or she is provided with specific instructions as to how to open the package and is given another five minutes to do so. If a child opens the package during either section of the test, the package is considered to have failed in that instance. In order to be deemed child-resistant, the design must have prevented 85% of children from opening the package during the first five minutes and 80% during the latter five minutes. The testing protocol mandates that adults between the ages of 50 and 70 be tested as well. In order for the package to pass the test, 90% of the adults tested must be able to open the package within a five-minute period.
The Rise of Flexible Packaging
Over recent years, brand owners have increasingly moved from rigid to flexible packaging with no sign of slowing down. The segment now represents the second largest packaging category in the US.6 This trend is largely due to the unique benefits offered by flexible packaging. It has a higher product-to-package ratio than rigid alternatives, making it lighter in weight and more compact. In turn, this decreases the cost of transportation across the entire supply chain and improves sustainability efforts through source reduction. Flexible packaging also provides enhanced barrier protection and offers a larger branding billboard, making it a preferred choice for brand owners concerned with product protection and consumer preference.
When it came to child-resistant packaging, however, brand owners have historically been limited to rigid containers. Rigid options were the only type of packaging capable of meeting the rigorous testing protocol set by the PPPA. A flexible packaging solution that met these requirements became a coveted goal for flexible packaging companies and brand owners alike. Over the last several decades, flexible packaging companies have worked on a number of potential solutions, most of which centered on creating different types of press-to-close options. Most that were created, such as a press-to-close technology with a hidden zipper, served only to increase the difficultly of opening a package while not resulting in truly child-resistant packaging. The solutions that were eventually created were prohibitively expensive and difficult to ship due to protruding parts. Brand owners were effectively left with only rigid options for products that required child-resistance.
The Next Step Forward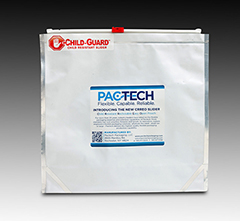 Recently, a solution to this industry need was born, as the first flexible packaging option on a slider platform was born. In order to develop this technology, the engineering and R&D teams at Presto Products Co. spent more than two years developing a solution that would effectively protect children in the household. The closure, trademarked CHILD-GUARD, is an enhanced version of a slider that is extremely difficult for a child to open, yet is simple enough for adults and seniors to open easily. CHILD-GUARD passed the testing protocol set by the PPPA with flying colors and became the first child-resistant slider available for application on pouch packaging that meets Title 16 CFR 1700 of the PPPA.
CHILD-GUARD is designed to be able to be produced on pre-existing equipment with minor modifications. The slider is designed to integrate into existing packaging formats, pre-made bag applications and form, fill, and seal equipment, providing options for both low-volume and high-volume packagers.
Brand owners now can utilize all the benefits that flexible packaging has to offer for a number of product categories in which regulations mandate child-resistance for reclosable packaging—including home care, chemical, pharmaceutical, nutraceutical, and any other products that should not be consumed by children or taken without adult supervision. Additionally, medical and recreational marijuana—for which child-resistance is regulated and enforced by state authority—is well suited for this application, as it would benefit from the high barrier protection offered by flexible packaging to retain freshness. The flexible packaging industry can enter each of these market segments for the first time and will now, as a result, play an instrumental role in helping to protect children from accidental poisonings.
Brad Hansen is president at Presto Specialty Group, Presto Products Co., a supplier of products ranging from private label food and disposer bags to packaging closures. Presto, a business of Reynolds Packaging Group, operates six manufacturing plants and supports customers in North America, Europe, and Asia. For more information about CHILD-GUARD, contact This email address is being protected from spambots. You need JavaScript enabled to view it., visit www.fresh-lock.com or dial 1-800-265-0750.
1http://whqlibdoc.who.int/publications/2008/9789241563574_eng.pdf
2http://www.cpsc.gov//PageFiles/114277/384.pdf
3http://whqlibdoc.who.int/publications/2008/9789241563574_eng.pdf
4http://www.cpsc.gov//Global/PDF/Statues/pppa.pdf The Poison Prevention Packaging Act, 15 U.S.C.1471, Sec. 2(4).
5http://whqlibdoc.who.int/publications/2008/9789241563574_eng.pdf
6https://www.flexpack.org/INDUST/industry_facts_figures.asp