Published: October 20, 2015
BURY, MANCHESTER, UK | Clondalkin Flexible Packaging Bury (previously Chadwicks Lids) has produced the lids for the rebrand of LowLow Snack Bites range. The Snack Bites contain slices of mouth-watering mature cheese, together with pieces of multigrain toast and four different topping variants: roasted red pepper chutney, sweet chilli jam, caramelized onion chutney, and cranberry relish.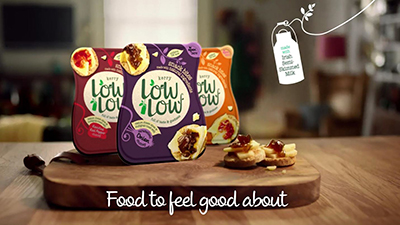 Clondalkin has produced four different 138.5 mm x 110.5 mm lid designs, printed on white omnipet, with a matte over lacquer for extra impact on shelf.
Ken Dunlop, sales manager, comments, "The lids are bright, bold, and eye-catching, designed to appeal to busy, yet health-conscious consumers looking for a quick snack, that's perfect anytime."
These new Snack Bites are part of a re-launch for the LowLow brand. Today's consumers are continually looking to eat healthier and the re-launched LowLow range is made with semi-skimmed milk so consumers get all the dairy taste and goodness, with 33% less fat. The Snack Bites and Spreadable Cheese ranges also have improved recipes made with natural ingredients.
Amanda Ryan, senior brand manager from Kerry Foods, adds, "This re-launch is a based on the consumer trend toward healthy, natural products, and our Snack Bites range fits right into this space. We are delighted with both the design and quality of the finished product. So much so that Snack Bites will feature in our TV advertising for the LowLow re-launch.
"The service we have received from Clondalkin Flexible Packaging Bury has been excellent. Their team's commitment and attention to detail have been critical in achieving such a fantastic looking product."