Published: May 12, 2015
ALBERTVILLE, AL | ColorMasters started in business 28 years ago by filling a local need for quality plastic bags. And meeting customer needs (often in advance) has remained its focus. The most recent signs of that philosophy are two new extruders from Windmoeller & Hoelscher (W&H), one recently commissioned and one due in early July.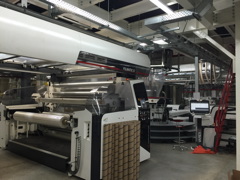 ColorMasters has three manufacturing locations: a converting plant that includes equipment for flexo printing, laminating, polybags, pouching, and INNO-LOK pre-zippered film; a second facility for the printing of shrink film; and Master Extrusion, a facility that opened three years ago and is the company's "single biggest evolution" says sales director Mark Pfeiffer.
"When we built Master Extrusion, we put in 14 new silos because we knew we were going to grow," Pfeiffer says, adding that a big part of the company's success is ownership's willingness to buy equipment ahead of the market. "We will buy assets very quickly, prior to specific customers asking for it. We believe we know what they will want. So when they will want it, it is there and ready."
The newest W&H extruders are both Varex II Models. Pfeiffer says they are extremely modern in design and will join the original four W&H extruders in producing three-layer coex PE, reportedly with gauge variation profiles that typically are 3% or less.
"Making our own film allows us to control our own destiny and control the quality of the film," says Pfeiffer. "We are in an extrusion expansion phase now, and the new extruders provide even more consistent output and gauge profile."
In addition to the converting operations, the company also sells both printed and unprinted rolls.
The company uses almost all of its own film in its converting operations. Exceptions include certain barrier film such as PET, nylon, and OPP. "Those are sourced out," says Pfeiffer, "but even then, the sealant web is PE, and ColorMasters uses its own film for that.
This email address is being protected from spambots. You need JavaScript enabled to view it.