Published: March 24, 2015, By Gene Medlock

Read Part 1 of this Article

EVOH has allowed for conversion from foil and metallized film laminations to co-extruded barrier films but some applications require better flex crack than conventional EVOH alone can provide.
EVOH Versus Metal and Glass
Ethylene Vinyl Alcohol (EVOH) offers many advantages versus traditional packaging platforms, such as metal cans, foil-based flexible packaging, and glass jars. EVOH packaging is microwaveable; can be scanned in metal detectors; is transparent; possesses some superior mechanical properties; and can be recycled.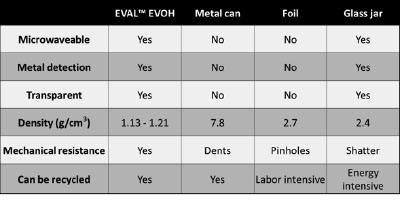 In flexible packaging, other properties, such as flex crack performance and other abuse resistance, are important. Flex crack performance is evaluated using different testing methods, but the most common technique for imparting abuse in flexible films is the Gelbo test.
In the Gelbo test, a film specimen is rolled into a tube and clamped to two brackets; one bracket is fixed, while the other bracket rotates the film while simultaneously compressing the film. One cycle is one full compression and rotation and the reverse.
After Gelbo flexing, the number of pinholes can be counted in the film by using a dye to identify the pinholes, or the film may be evaluated for O2TR to determine if the barrier has been compromised. Gelbo flexing is a means of evaluating the relative tendency of films to crack in order to provide some prediction of the abuse resistance in the packaging life cycle.
EVOH films have inherently better flex crack resistance than foil and metallized OPP and OPET films, but some applications require better flex crack than conventional EVOH alone can provide. The primary principles in improving crack resistance are to delay the onset of crack formation and/or prevent propagation of cracks. This is essential to preserve the integrity of the package and prevent the barrier layer from being compromised. The flex crack performance of EVOH films is generally better for grades with higher mol% ethylene (lower crystallinity).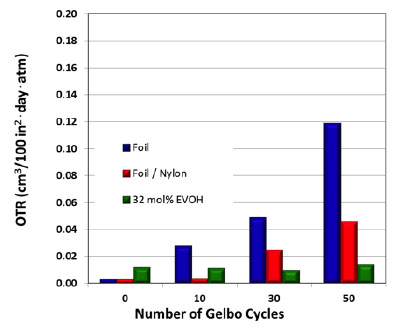 Other factors that can be important in the flex crack performance are the other polymer types used in the film structure, EVOH thickness, number of EVOH layers, temperature and %RH (moisture content). Using low modulus materials such as low density polyethylene, ethylene vinyl acetate, and polyolefin plastomers in the film construction also can yield a significant improvement in flex crack performance.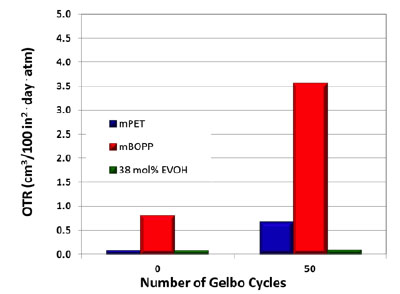 Advances in multilayer film extrusion technology now make it possible to produce structures with many more layers than with conventional extrusion equipment. Microlayer die and feed block systems allow formation and combination of many alternating layers from as few as two extrusion melt streams. This equipment allows production of structures with multiple thinner EVOH layers, which achieve the target gas barrier property while also preserving the barrier property after significant abuse.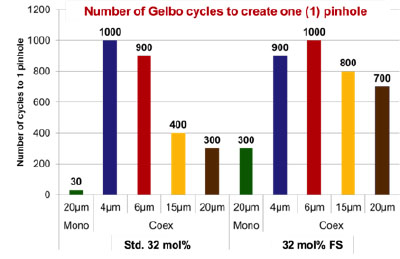 Modified EVOH for Improved Flex Crack Performance
As a starting point, higher mol% conventional EVAL grades, such as 38 mol% and 44 mol%, can be utilized in coextruded films to provide good flex crack resistance. EVAL SP grades, which have reduced crystallinity, can be used to provide better flex crack performance than conventional EVOH. EVAL FS, the newest EVAL technology, can provide the best flex crack resistance and is a significant step change in performance over EVAL SP.
ABOUT THE AUTHOR
Gene Medlock is technical service and development manager for the EVAL Division of Kuraray America Co., a leader in specialty chemical, fiber, and resin production. The company has top-of-the-line research and production facilities located in Houston, TX, and a network of supply from around the world. Prior to joining Kuraray, he was process engineer at Kaneka High Tech Materials. Gene holds a US patent in polymer carpet backing, and he earned a BS in chemical engineering from Texas A&M University.
References
Kuraray America Inc., EVAL Technical Bulletin No. 120 – Processing EVAL Resins
Kuraray America Inc., EVAL Technical Bulletin No. 100 – EVOH Moisture & Drying
G. Medlock, Enhanced EVOH for Improved Orientability and Shrink, (TAPPI PLACE Proceedings, Albuquerque, NM, 2010)
G. Medlock, Advanced EVOH Technology for Barrier Film Applications, (Macro Barrier Technology Seminar at the International Trade Fair for Rubber and Plastics, Dusseldorf, Germany 2013)
G. Medlock, Nanolayer Film Structures with Ethylene Vinyl Alcohol Resins, (TAPPI PLACE Proceedings, Seattle, WA, 2012)
Read Part 1 of this article
Editor's Note: The views and opinions expressed in this technical report are those of the author, not those of the editors of PFFC.