Published: February 26, 2015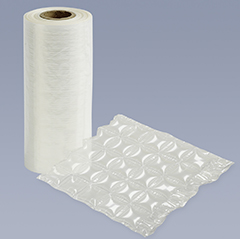 DEERFIELD, IL | Two new high performance, patent-pending films have been developed by Pregis for inflatable cushioning applications. The hybrid cushioning (HC) Performance films target high-pressure applications for products that require longer shipping or storage cycles.
HC Performance "Plus" has been engineered to be Pregis' toughest HC material offering the highest air retention properties and designed to protect heavy items. The HC Performance film is a lighter-duty option designed for packaging lighter weight products that also require high-pressure cushioning and protection.
The proprietary film design enables air to be contained within the cells for extended periods of time and provide superior protection for products that require longer storage and shipping cycles. Both HC Performance films surpass ASTM standards D2221 and D6653 for creep and altitude, respectively. The new HC materials are produced on demand using Pregis' AirSpeed HC Versa equipment.
Hybrid cushioning differs from traditional void-fill pillows because it features multiple square air chambers vs. one large cell. HC rollstock is loaded onto the Pregis AirSpeed HC Versa unit, which automatically inflates the rows of material. The inflated high pressure pockets provide ideal cushioning as the air transfers between the individual chambers.
The proprietary, square hybrid-cushioning pattern offers a clear, transparent look preferred among consumer-oriented companies.
"As companies continue to shift towards more parcel shipping and expanded geographic customer base, their packaging performance requirements are changing. With international shipping on the rise, packages are going to be subjected to extensive handling through the supply chain," said Tom Wetsch, chief innovation officer. "We developed these new films to address those more rigorous shipping requirements."
Target markets and applications include: aerospace, automotive, e-commerce, electronics, glass, fulfillment, housewares, medical/dental, pharmaceutical, industrial components, etc.