Published: October 21, 2014
ADDISON, IL | Rollprint Packaging Products announces high-barrier Exponent, a film that represents a collaboration between Ineos's Barex and Rollprint's ClearFoil. The material targets pharmaceutical and other chemically sensitive applications that require exceptional barrier and clarity.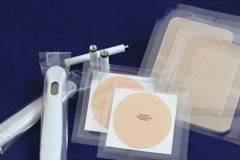 ClearFoil, a barrier-coated polyester, is extrusion or adhesive laminated to Barex acrylonitrile-methyl acrylate copolymer to create Exponent. Pre-made or inline pouching, lidding, and flow wrap applications are expected to be the first commercialized package types. Company says the film's reduced number of layers and gauge offer cost-savings and create an improved environmental profile for a wide variety of pharmaceutical products.
Dwane Hahn, Rollprint's VP of sales and marketing, says, "The objective was to engineer a film that would meet performance requirements for pharma and other chemically sensitive products but use less material to help manufacturers' meet their cost objectives. We also wanted offer clarity attributes not possible with foil-based structures and give companies an alternative to glass vials."
The transdermal patch, e-cigarette, and diagnostics markets are the first application opportunities company envisions for this technology. Film is also said to be an excellent candidate for single-dose delivery systems and cosmetic applications because of its high surface-to-volume ratio and unique barrier properties. Company also reports the film is well suited for the emerging flexible packaging for wine and spirits segment because of its outstanding organoleptic characteristics.
This email address is being protected from spambots. You need JavaScript enabled to view it.