Published: July 23, 2014
ST. PAUL, MN | Cortec offers patented EcoShield paper and linerboard, premium paper made from what company says is the highest quality recycled paper.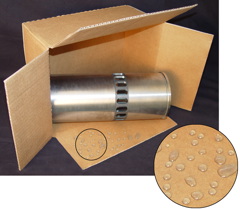 Described as innovative, safe, and economical packaging, product is coated with a water-based barrier coating and is said to be fully recyclable/repulpable while displaying barrier properties better than those of wax or PE coated paper or linerboards.
Paper can readily be recycled into other types of paper products such as boxes, cardboard, and other corrugated materials as well as "repulped"—made into or mixed with pulp to make new paper products. Reportedly, there is no need for costly processes to separate the paper base from the coating, and the environmentally safe product offers excellent moisture barrier and oil and grease resistance.
Product is in compliance with FDA regulations under 21 code of Federal Regulations for food contact and can be used in applications where direct or indirect food contact may occur. In manufacturing process there is no chlorine or other bleaching chemicals, which completely eliminates package contamination. It is non-toxic, non-irritating, nitrite and amine free, and does not contain any silicones, chromates, other heavy metals or toxic products.
This email address is being protected from spambots. You need JavaScript enabled to view it.