Published: May 07, 2014
CHICAGO, IL | Südpack USA Inc. reports it has extended its range of safe and convenient film packaging solutions for food products on the US market by its product family "Multipeel." The multilayer packaging films are said to provide easy opening without a knife or scissors. They can be reclosed multiple times without any quality loss, keeping even delicate products fresh for a longer period of time. They can be stored and attractively presented directly in the package. Multipeel films are saud to run smoothly on all common packaging machines.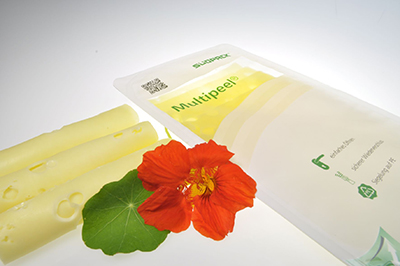 Following the founding of Südpack USA Inc. and the expansion of business activities in the US, Germany-based packaging specialist Südpack GmbH & Co. KG is set to extend its presence in the market with its multilayer packaging films. The product family Multipeel, for instance, is suited for a wide range of products. The Multipeel films can be equipped with different barrier properties, ranging from low to high oxygen barriers. Thanks to many years of experience in coextruding film layers, Südpack holds the required expertise in-house. The film specialists can flexibly tailor each packaging to the individual needs of their customers and adapt their reclosing solution even for demanding applications.
"All our Multipeel products come in a consistently high quality," said Tom Wilde, sales director at Südpack USA Inc. "That is crucial for our customers, as any variation in the material could cause a disruption in the production process and lead to machinery downtime."
Convenience for consumers, functionality for producers
Multipeel packaging solutions offer a number of convenience aspects. They open smoothly and can be resealed reliably many times. Consumers do not need to unpack the cheese or meat products; they can both store and present them on the dining table directly in the package without any extra box, platter, or plastic wrapping.
Besides their easy handling, Multipeel films are highly functional and work smoothly on all common packaging machines. "Südpack is one of only few European manufacturers who coextrude their seal layers in-house," said Wilde. "We test various options at our development center in Germany to make sure that the film runs perfectly on our customers' machines, without any need for retooling. That saves time and is a real advantage for the production process. Our customers in the US receive their customized packaging solution, precisely adapted to their individual requirements."
Re-sealing in top or base films and tubular bags
The different Multipeel package solutions work with a re-sealing layer in the top or in the base film. They come in both transparent and white colored films. Transparent films are an effective eye-catcher at the point of sale as they offer consumers a direct view of the contents. Colored films, on the other hand, are an ideal solution for eye-catching full prints or light-sensitive goods. Südpack prints its films in-house with rotogravure printing in up to 12 colors or high quality flexographic printing in up to ten colors. Pattern-matching printing on front and back, inline lamination, and printing on intermediate layers are also part of the portfolio.
The resealable top film "Multipeel" is mainly used for MAP packaging processed on deep drawing machines. It keeps products safe for a long period of time and opens very smoothly. With a resealing feature in the base film, "Multipeel Base" offers easy opening with an especially high crack force for higher safety in case of mechanical stress. When looking for an extra strong reclosing system, "Multipeel High" with a resealing layer in the top film is the right choice. Multipeel Flow Wrap in turn is a resealing solution for tubular bags. It works without any aids such as zipper or adhesive strips, which makes the film suitable for all common tubular bag machines. The film's oxygen barrier makes Multipeel Flow Wrap suitable for both cooled and uncooled foods, such as cooked meat, confectionary, snacks, cheese, cereals, nuts, and bakery items.
"Reclosable packages are not very common yet on the North American market, which is why we believe that our solutions will bring true benefits both for consumers and producers in the US," said Tom Wilde.
This email address is being protected from spambots. You need JavaScript enabled to view it.