Published: July 15, 2013, By Edited by Yolanda Simonsis
In Vitro Diagnostic (IVD) testing holds the promise of considerable expansion as medical testing in the home or outside the hospital laboratory grows. LPS Industries is muscling its way to a leadership position in answer to rapid demand.
MOONACHIE, NJ | Driven by an aging population of patients and healthcare practitioners who are increasingly expectant of "on demand" results, the In Vitro Diagnostic (IVD) Test market is rapidly expanding and expected to do so for the foreseeable future. For packagers and supply chain partners, this market represents an abundance of opportunity. And companies like NJ-based LPS Industries–a leading provider of flexible packaging–are making important investments and improvements to better support the demands of this thriving industry.
The IVD Test market is broadly defined as including medical testing performed in the home, in proximity to the patient or outside the hospital laboratory. Emerging technologies that increase accuracy and simplify use are expected to fuel the market's continued expansion.
This growth trend is evident in several areas. The $5.5 billion point-of-care testing market is forecast to grow by a roughly 7% compound annual growth rate (CAGR) through 2014. The point-of-care testing market includes tests used by healthcare professionals in hospitals, physician offices and health clinics. This increase is due to the rising use of point-of-care tests as screening tools and the advantages of point-of-care tests as a convenient and rapid way to diagnose disease.
Molecular diagnostics is another example. This $5.0 billion sector is forecasted to grow by about 11% CAGR through 2014. This market is composed of virology, bacteriology, molecular blood donor screening, and genetic testing.
Finally, there is the $8.2 billion self-monitoring blood glucose market that is forecast to experience a 3% CAGR through 2014. The self-monitoring blood glucose market includes testing outside of medical facilities and involves products like test meters, strips, and combination meter and insulin pumps.
To better serve the growing demand for IVD test packaging, LPS Industries recently installed a fully contained and controlled environment manufacturing suite at its Moonachie, NJ-based facility. Within the last several months, the company also invested in new testing equipment and recently installed a second Nordmeccanica solventless laminating system employing Henkel solventless adhesives and several Ashe slitters, the newest being only a year old. These investments virtually doubled LPS Industries' capacity to produce hermetically-sealed zippered foil-laminated bags, frequently the format of choice for IVD tests, components and kits.
"Bringing an IVD testing product to the market comes with a host of challenges," commented Domenick Pasqualone, VP at LPS Industries. "Packaging is sometimes the last thing companies want to concern themselves with. By implementing the right equipment and instituting high quality standards, LPS Industries effectively takes that worry off their minds."
Setting a Standard for Standards
Another sign of the LPS Industries commitment to maintaining the highest standards is the recent appointment of Diane Rutherford as the new director of quality assurance. As an ISO 9001 registered facility, LPS Industries maintains an extremely tight quality control process with complete traceability. A bar code system enables end-to-end tracking, from the time raw material enters its facility to the time the finished products ship.
"If there's ever an incident or concern involving our packaging, we're able to take that package back to its origins. We can readily inform our customers who the raw material suppliers were, when the materials entered our facility, who worked on the project, what work was performed, and what equipment was used." Pasqualone adds, "Customers in the IVD Test business have extremely high standards for quality, consistency and reliability. By having the highest level of resources and expertise in place and incorporating best practices, LPS Industries is able to provide peace of mind."
Full Development Cycle Experience & Services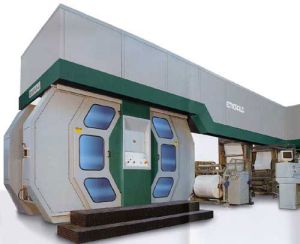 LPS Industries has served the IVD Test market for decades. Because of its deep understanding of the industry, custom solutions with precise product protection and application requirements can readily be achieved. Additional services, such as in-house printing utilizing its newest Uteco flexographic press, help clients meet specific product and package documentation requirements. An Esko prepress system allows LPS several advantages. Charles Ardman, VP Marketing, explains, "What's critical to our being able to produce stand-out graphics is our Esko prepress and printing software. It results in a magnitude of improved color separation, which translates into a more striking image. It also allows us to produce high definition flexo printing, using plates that are imaged at 4000 DPI, much higher than the industry standard 2,400 DPI, resulting in a smaller printed dot that greatly increases contrast and clarity."
Unlikely Origins
The first use of LPS Industries' hermetically sealed bags was far from the healthcare industry. They were first used by the military to keep metal components in a moisture-free environment. Many metal components used by the military receive a coating of the lubricant cosmoline to prevent oxidation of the metal while in storage. LPS Industries' bags effectively maintain the atmospheric conditions that exist when the product is packaged. "LPS Industries continues to proudly serve various branches of the military to this day," Pasqualone added. "Given the exacting requirements of the military, components need to be kept extremely moist or extremely dry. Our mil-spec packaging performs exceedingly well under all conditions."
Branching Out
The initial crossover client in healthcare came from a division of an international medical device company that was packaging electrocardiogram (EKG) pads. At the time, the pads were being packed in groups of five–just enough for one application. Then hospitals began requesting greater quantities per package. However, this efficiency-driven solution presented a problem: The prolonged exposure of unused pads in an open package presented the possibility of being rendered useless if their adhesive gel were to dry out. LPS Industries was the first to engineer a zipper as the closure for a foil bag while maintaining a hermetic seal. And it was this solution that proved to be the answer. With the resealable closure, up to 40 EKG pads could now be prolonged in one bag, dramatically reducing cost and assuring that the gelled pads would not dry out prior to use.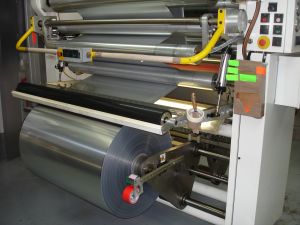 What first established LPS Industries in the IVD Test market was the result of an emergency call they received from the diagnostic division of a pharmaceutical customer several years ago. At the time, the company was marketing a fecal occult blood test. During an extremely hot July 4th weekend, the U.S. Post Office officially refused to deliver the packages because of the foul odor they were emitting. In response to the situation, LPS Industries' developed a package using its commercial grade, foil-based material with the required barrier properties and an airtight tape closure to comply with the USPS requirements. Today, a number of marketers of fecal occult blood tests continue to use the LPS Industries' foil-lined medical mailer for its proven and reliable performance.
LPS Industries is currently working with an increasing number of customers in the IVD Test market, who represent a broad array of tests and testing devices, including microtiter plate and pipette packaging for diagnostic testing kits, dipstick and other testing kits for drug and alcohol use, STDs, cholesterol, glucose, HIV, and more.
Comprehensive Sustainability Program
LPS Industries uses only solventless adhesives in its manufacturing process and has eliminated the volatile organic compounds (VOCs) commonly found in solvent-based adhesives to further reduce the risk of product contamination. This ensures complete product integrity and also results in a safer work environment for LPS Industries' personnel. But this represents only part of an overall sustainability strategy that also integrates, according to Ardman, 2.5-acres of roof-top solar energy panels that produce 25% of LPS's annual energy consumption while offsetting the equivalent of 1.1million lb of CO2 emissions annually. In addition, a white thermoplastic polyolefin (TPO) roof was installed which reflects sunlight to reduce cooling costs.
Ardman elaborates, "We've also established four warehouses located strategically throughout the country so we can stock products closer to our customers to reduce our carbon footprint associated with order fulfillment and delivery."
The company also instituted a very aggressive waste management program two years ago, says Ardman. LPS is able to recycle an impressive "100% of its paper and poly trim. These are examples of tangible activities we've taken as a corporate citizen and that are also important to our customers with their own corporate sustainability programs, We also have a growing, green portfolio of products. One of our most popular is a packing list envelope we manufacture made of 100% recycled poly and packaged in unbleached, untreated corrugated cartons. Other examples include "packaging peanuts" made from a biodegradable, plant-based material and air-filled packaging pillows that are recyclable."
About LPS Industries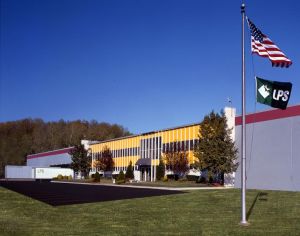 LPS Industries was founded in 1959 by John M. Robinson as a converter of military specification barrier materials. Today, under the direction of Madeleine D. Robinson, CEO, LPS Industries is a diversified manufacturer and leader in the flexible packaging industry, providing packaging solutions for a diverse range of markets, including medical, food, transportation, electronics and agricultural. LPS Industries is an ISO 9001:2008 registered company and a woman owned and operated enterprise.