Published: May 17, 2013
On the 25th anniversary of its awards program, DuPont applauds collaboration and protection
WILMINGTON, DE | DuPont celebrated the silver anniversary of its global packaging awards program on May 16, granting top honors to UK-based design firm pi 3 for AidPod, which delivers life-saving medicine to remote sub-Saharan villages. This unique packaging and distribution program captured the premier Diamond and the Special 25th Anniversary 'Food Security' award.
"Twenty-five years ago we saw the DuPont Awards for Packaging Innovation program as an opportunity to connect with this vibrant industry and to champion collaboration as a critical component in innovation," said William J. Harvey, president, DuPont Packaging & Industrial Polymers. "Twenty-five years later—as we look back at breakthrough winners and celebrate this year's winners—it's clear that collaboration remains central to bringing innovation to market."
This year's top winner epitomized collaboration and showcased how packaging adds value, according to Shanna Moore, leader of the DuPont Packaging Awards program. AidPod was developed by pi 3 for ColaLife, an independent non-profit organization that leverages the Coca-Cola Co. (TCCC) distribution network to get medicines and instructions to remote areas. The AidPod is a self-contained anti-diarrheal kit that tucks between bottles in Coca-Cola crates. This winning-generation AidPod has evolved to become part of the kit itself, serving as both a single, measured dose mixing and drinking vessel.
"It's not just small packages that good things come in—it's clever ones, too," US Senator Chris Coons said. "The AidPod is proof that the combination of ingenuity, innovation, and inspiration is powerful enough to overcome the world's greatest humanitarian challenges. ColaLife and pi 3's pairing of smart packaging with an effective distribution platform has enormous potential to make a real difference in sub-Saharan Africa." Senator Coons is chair of the US Senate Foreign Relations Subcommittee on African Affairs.
As part of the quarter-century celebration, DuPont highlighted past winners whose breakthrough projects ushered in significant societal change and looked ahead at how packaging can shape society's future. The event also honored past winners who have won five or more times with a DuPont Continuing Innovation Award. "The 25th anniversary event was a chance for packaging to shed its 'silent hero' role, step into the limelight, and accept the accolades," said Moore.
One of the Continuing Innovation award winners is Amcor, which has won 11 DuPont Innovation Awards over the past 25 years. Ken MacKenzie, Amcor's managing director/CEO, says, "We are delighted to be recognized by DuPont for our long-standing commitment to innovation. We continue to work closely with customers and suppliers to deliver innovative and responsible packaging that provides real benefit to end-customers and the broader community. This award is great recognition of Amcor's talented co-workers who passionately and relentlessly apply art and science to develop innovative packaging solutions and bring them to commercial reality."
The DuPont Awards for Packaging Innovation is the industry's longest-running, global, independently judged celebration of innovation and collaboration throughout the value chain. Each year an esteemed panel awards diamond, gold or silver honors based on "excellence" in one or all of three categories: Innovation; Sustainability; and Cost/Waste Reduction. This year the independent judges granted one diamond, four gold and 10 silver awards for packaging in a diverse set of markets.
Here is more information on awards of interest to converters:
Diamond & Special Award for 'Food Security' Winner
• AidPod for ColaLife Delivers Life-Saving Medicine to Children in Remote Villages through Coca-Cola Distribution Channel (pi 3; ColaLife; Amcor Flexibles Europe-USA; Charpack Ltd.)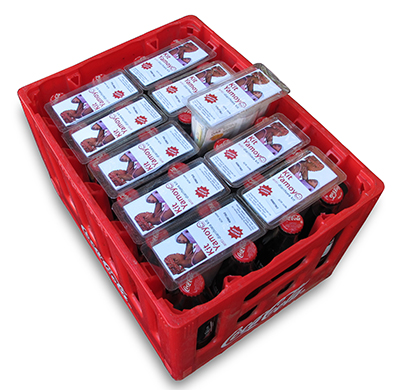 Medicine remains difficult to obtain in remote villages in sub-Saharan Africa. Consequently, 15% of the mortality in this area for children under 5 years old is attributed to diarrhea, an easily treatable illness. Coca-Cola, however, is available almost everywhere in sub-Saharan Africa. ColaLife, an independent non-profit UK-based agency with the idea to leverage the vast Coca-Cola network, collaborated with pi global, specifically pi 3, who developed a structural, self-contained package for an anti-diarrheal kit to nestle into unused space surrounding crated Coca-Cola bottles. Called AidPod, the package is securely sealed with a strong film that can withstand severe impact, maintain pack integrity, and prevent contamination. The AidPod also contains a soap packet separate from the rest of the contents to support hand washing. The medicine is packaged in single-dose sachets to be mixed with water in the AidPod container, which doubles as a clean mixing and drinking vessel.
According to Amcor Flexibles, the pack is treated with Amcor P-Plus technology, which ensures any sudden pressure changes are dissipated to avoid bursting the pack, so it arrives safely.
Gold Winners
Ink Producer, Recovery Company Collaborate on Zero Waste to Landfill Program (BCM Inks USA; Close the Loop. Ltd.)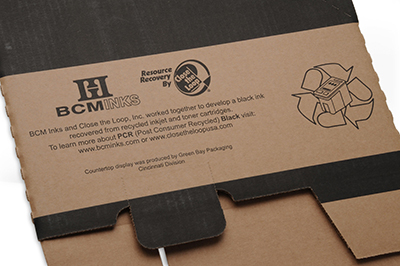 BCM Inks USA Inc. partnered with Close the Loop materials recovery company to create a closed-loop system for used inkjet cartridges that result in zero waste to landfills. Close the Loop recovers the plastic and remainder ink from used cartridges. BCM Inks uses the recovered ink to develop a new water-based flexographic ink called 'PCR (Post-Consumer Recycled) Black' to print on corrugated shipping containers. One drum of PCR Black stops approximately 200,000 ink cartridges from going into a landfill. This recycling process recovers about 30 million ink cartridges a year.
Easy-Open Venus and Olay Razor Packaging Delivers Convenience (Gillette/Placon; EcoStar; Control Group)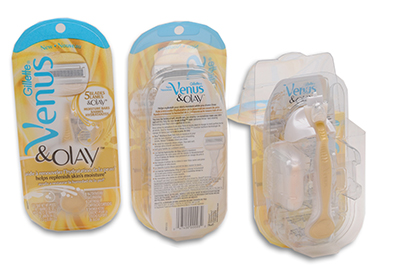 Iconic brands need pioneering packaging, which is why P&G Gillette collaborated with Placon on a frustration-free blister package for Venus & Olay razors. Beyond the easy-open feature, which combines a perforation/finger tab opening, the thermoformed inner tray, with more than 50% post-consumer recycled PET material, holds all razor components on multiple planes in multiple-sized cavities. Heat-sealed on a curve, the lid utilizes a proprietary film and ink chemistry that withstands the direct heat required to seal the lid to the blister. Shedding 29% of its plastic content from previous packaging, the new package eliminates polyvinyl chloride (PVC) in favor of highly recyclable polyethylene terephthalate (PET)
Convenience Salad Bowl Gets More Sustainable (Coop Cooperative; Awtec)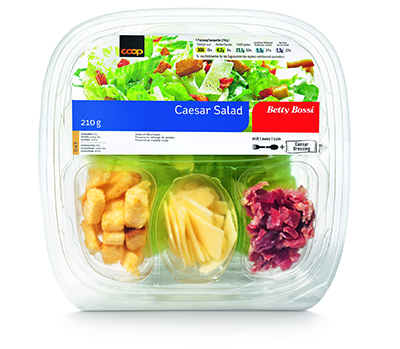 The original convenience salad bowl was very popular with consumers but came with a high amount of packaging and waste. It was bulky and not very convenient. Coop, therefore, decided to adapt a holistic approach to redesign its bowl by focusing on sustainability, convenience, and economic aspects. Working with packaging designers and technologists, Coop reduced the packaging material by 30% by changing its original package from round to square and using recyclable polyester (RPET). The consumer-valued design enhancement features include a removable, multi-compartment tray that securely snaps onto the container as a lid and a "shake" function that allows consumers to conveniently mix the salad with the salad dressing.
Silver Winners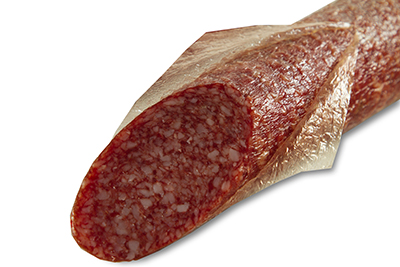 The iCel polyamide-based sausage casing challenges cellulose, collagen, and natural sausage casings in that it retains the benefits of both permeable and barrier films. iCel combines the high smoke and water vapor permeability of cellulose casings with optimal mechanical properties while maintaining a thin structure. Smoking and cooking times are reduced. The high mechanical strength and elasticity of the polyamide-based casings allow the meat-processing industry to use high processing speeds during the sausage manufacturing process. Since production of the casing doesn't require wet processes, such as solution-cast and reagent-induced precipitation, typically used to make casings of collagen or cellulose, it is much cleaner and fewer harsh chemicals are needed to produce the sausage. The oxygen barrier and relatively high moisture barrier prolong shelf life, preserve flavor, and significantly increase product yield by keeping the moisture inside the product during thermal treatment.
Amcor Optimizes Cavity Design and Blister Dimensions Using its 'Advanced Blister Design' Tools in a Formpack Pharmaceutical Blister Pack That Protects Contents from Moisture (Amcor Flexibles)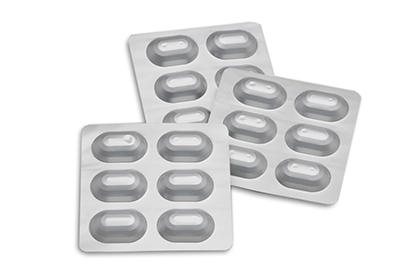 Amcor redesigned its pharmaceutical blister pack to improve moisture protection. While aluminum blister is made up of layer laminates that are complete barriers against moisture, humidity can enter through open edges and through the perforation lines between each cavity. In its new design, Amcor reduced the size of the single cavities and removed the perforation lines so that moisture can diffuse only through the open edge of the blister. This improves the blister's moisture protection by more than 40% and reduces the quantity of material that is used to pack the same number of tablets by 33%.
According to Bob Biasi, VP R&D of Amcor Flexibles Europe & Americas, "The new design was driven by advancements in Amcor Flexibles' proprietary design simulation tool, allowing for the optimum selection and design of blister materials. The simulation software has calculated the removal of the perforations between blisters, leading to significant reduction of the humidity diffusion into the cavities."
Toyo Aluminum K.K. Uses Nature to Create Water-Repellent Packaging Material for Yogurt Lids (Toyo Aluminum K.K.; Morinaga Milk Industry Co. Ltd.)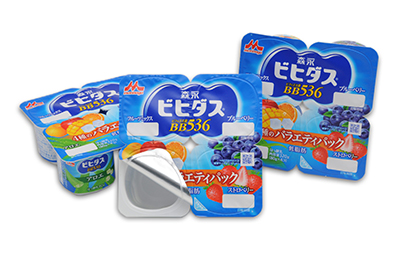 Inspired by lotus leaves, TOYAL LOTUS is an innovative functional packaging material used for yogurt container lids. The inside sealing surface of the lid made with TOYAL LOTUS offers extremely high water repellency. This material prevents the adhesion of yogurt to the inside surface of the lid allowing it to stay clean and providing an added sanitation benefit, meeting the needs of their consumers.
Folmex Reinvents Laundry Detergent Packaging While Improving Sustainability, Reducing Cost (Folmex; P&G)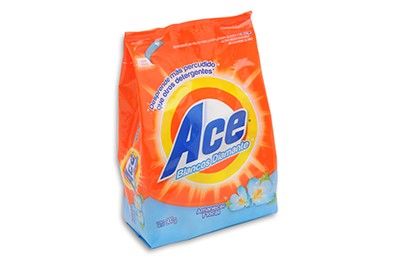 Folmex met a need in the Mexican market for easy to open and high-gloss flexible packages for powder laundry detergent. The company developed a polyethylene-based, high-gloss package that delivers a gloss measurement typically achieved with oriented polypropylene (OPP). Furthermore, the structure was downgauged by 21%, eliminating 111 tons (or 245,670 pounds) of material/year and saving 20 tons of CO2 that is directly attributable to the films' extrusion process. The downgauging has also helped the brand owner increase its product-to-package ratio by 27% and decrease CO2 emissions from transportation by 22%.
Clearly Clean Products Partners With Weis Markets and Launches the World's Only Recyclable MAP Tray (Clearly Clean Products; Weis Markets)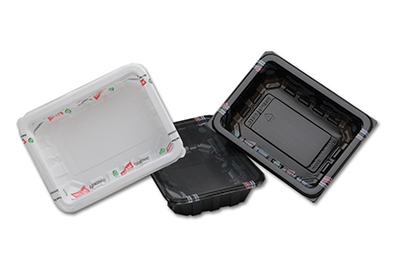 The Clearly Clean tray is the only recyclable Modified Atmosphere Package (MAP) in the world. This MAP tray, made from recycled PET, for meat, chicken, entrees, and seafood features a peel-away liner that, when removed, allows the tray to be recycled again. The ultra-thin, patented system provides barrier protection to maintain shelf life and can be printed to meet marketing objectives. Clearly Clean is proud to be able to help companies extend their sustainability practices to minimize the impact on the environment.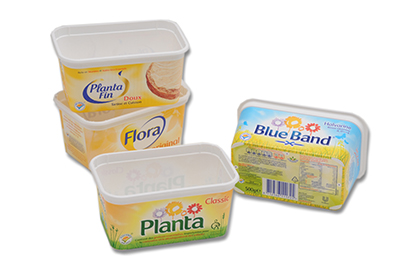 3D IML combines MuCell technology with IML label technology to offer a unique visual appearance and soft touch effect to packages, providing differentiation without changing the container shape. The 3D in-mold label is processed with an injection-molded tub made of expanded polypropylene to incorporate selective masking, creating areas without adhesion. The MuCell process controls the introduction of nitrogen into the polymer. Where there is adhesion between the label and the polymer, the nitrogen migrates through both structures. Where there is no adhesion (by design), the nitrogen accumulates between the polymer substrate and the label. The process creates bubble patterns or Braille for a multi-sensory experience.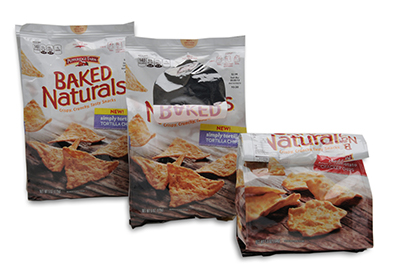 In its Baked Naturals Cracker Chips bag, Pepperidge Farm is the first to use an innovative re-close Seal Tab technology. The new technology, developed in collaboration with Sonoco Flexibles, significantly improves consumers' experience while supporting a strong brand identity. The packaging features a large and visible re-close tab with a pressure-sensitive adhesive (PSA) system incorporated into the film lamination. The result is greater surface area and better adhesion without obstructing brand messaging.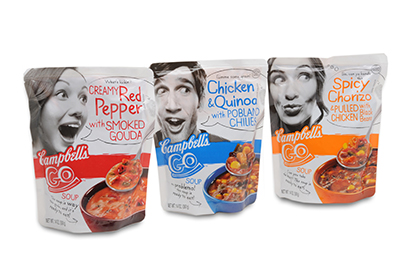 Not your grandmother's soup, new Campbell's Go Soups feature exciting flavors in a bold pouch that speaks directly to the younger generation. Campbell's Go Soup is packaged in a flexible, standup retort pouch that stands out from other soups on the store shelves and offers greater consumer convenience. Designed to appeal to millennials who are constantly on the move, this pouch is microwaveable and enables a short cook time. The clear gusset on the pouch helps it to stand up on shelves and also allows consumers to have a peek at the unique ingredients that make up the product inside.
DuPont Packaging & Industrial Polymers manufactures an extensive mix of adhesive, barrier, peelable lidding and sealant resins and provides a globally networked development team to work with customers on packaging programs that help protect the product, environment, improve shelf appeal, convenience and reduce cost in the food, cosmetics, medical products and other consumer goods and industrial packaging industries.
This email address is being protected from spambots. You need JavaScript enabled to view it.