Published: February 27, 2013
The Flexible Packaging Assn. (FPA), Linthicum, MD, presented 29 Flexible Packaging Achievement Awards during its annual meeting at the Ritz Carlton Golf Resort in Naples, FL, on February 26. A total of 78 packages were submitted into the 2013 competition; 25 were honored within one or more categories, including Packaging Excellence, Printing Achievement, Technical Innovation, and Environmental & Sustainability Achievement.
The winning entries feature innovative enhancements that integrate consumer trends and needs with technical advancements in materials, graphics, structure, and sustainability to produce outstanding flexible packaging solutions.
The judging panel included Larry Alehman, master faculty, Western Michigan Univ.; Lisa McTigue Pierce, executive editor, Packaging Digest; and Michael Richmond, Ph.D., VP, Packaging & Technology Integrated Solutions, a division of HAVI Global Solutions Direct LLC.
Highest Achievement Award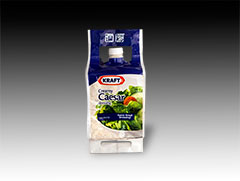 Exopack, Spartanburg, SC, earns the Highest Achievement Award for the Kraft YES Pack. Designed to provide a flexible alternative to rigid gallon jugs, the YES Pack is an innovative and environmentally friendly flexible gallon dressing package. To provide ease of use by foodservice operators, Kraft YES Pack incorporates a two-handle design and a smaller spout, making the package easier to carry and pour. The use of flexible materials versus a rigid container affords the customer a package that was manufactured using approximately 50% less energy and 60% less plastic material.
This package also wins a Gold Award for Packaging Excellence and a Silver Award for Environmental & Sustainability Achievement.
Lani Craddock, vice president of marketing, innovation, and sustainability for Exopack, along with project team members Dave McKnight (also of Exopack) and Stacey Rychlewski of Kraft accepted the awards for YES Pack. "The collaborative efforts of Exopack's product development team, Kraft, and KRW during the development of the YES Pack resulted in a package that is functionally and environmentally superior to its rigid competitors," said Craddock. "We [Exopack] are extremely proud of this package and the relationship it helped us forge with our customer."
Gold Awards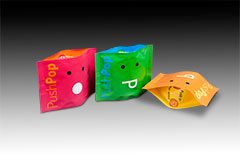 Amcor Flexibles, Mundelein, IL, wins a Gold Award for Packaging Excellence for its Amcor PushPop, which is said to add a "fun factor" to portion control packaging. The packaging material and package design combine to provide an easy open, convenient package. Existing form/fill/seal equipment can be retrofitted at a modest cost to produce this gusseted pouch. The enhanced consumer experience of the opening feature supports the use of this portion control package as an element of a healthier approach to eating. Amcor produces PushPop in both North American and Europe.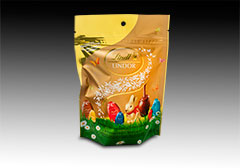 American Packaging Corp., Rochester, NY, takes home the Gold Award for Printing Achievement for Lindt Lindor Assorted Chocolates. For this package, the customer desired a matte/gloss combination to help bring the consumers' focus to certain areas of the package. American Packaging used gravure printing to emphasize the label detail. The tight register control and the use of gravure cylinders enabled the company to maintain color/color print registration. The use of the metallic substrate captures the design, and the unique matte/gloss combination adds recognizable style to this high-end product.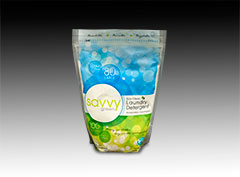 Ampac, Cincinnati, OH, captures a Gold Award for Environmental & Sustainability Achievement for its No. 2 Pouch – Savvy Green, which is an innovative step toward flexpack recycling. Savvy Green is the first primary flexible package to participate in the HOW2RECYCLE program providing consumers with a path to recycling flexible packaging. The pouch displays excellent improved stiffness and HD flexo graphics. It meets No. 2 SPI ASTM classification designation D7611/D7611-M-10 and is approved through Trex.
The No 2 Pouch is manufactured using a proprietary coextruded HPDE blend, allowing it to be recycled with other HDPE products in municipalities with recycling programs, as well as at retail stores with drop off locations for clean and dry HDPE shopping bags. The Ampac No. 2 Pouch has been improved for stiffness to help it stand upright in retail and in the home and has improved drop resistance for heavy products.
Utilizing a coextruded film as an alternative to the more traditional lamination process, the Savvy Green No. 2 Pouch eliminates the energy, materials, and associated waste from the lamination process. In addition, all trim, and rejected film/pouches accumulated during the manufacturing process of the No. 2 Pouch are recycled into resin, which is used in manufacturing can liners for other Ampac customers.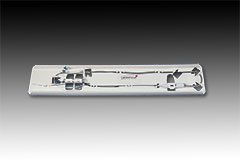 Beacon Converters Inc., Saddle Brook, NJ, earns Gold Awards for Environmental & Sustainability Achievement and Technical Innovation for its CardioFocus Heart Light Cardiac Ablation System Balloon Catheter Die Cut Tray. This tray provides a flexible packaging solution for large, complex devices, using less energy to manufacture, ship, and warehouse. Outperforming the alternative rigid PETG tray, this package reduces packaging volume by 32% and weight by 50%. Innovative packaging design collaboration resulted in a die-cut tray with functional components, which are cut from a single sheet of 0.035 in. flexible HDPE. Key features include carabineer hold downs that protect delicate device elements, and triangular sidewalls formed with a series of custom tabs that provide the tray's physical structure. When assembled and loaded, this flexible packaging tray can be placed on a small mayo stand and act as a catheter prep table top in the confined space of an Operating Room Angio-suite. After use, the tray knocks down flat and can
be rolled up for recycling.
Paharpur 3P, Ghaziabad, India, earns a Gold Award for Printing Achievement for the packaging for Aashirvaad Select Superior Sharbati Whole Wheat Atta. The company describes the flexible package as a stand-up pack with authentic looks and brilliant printing. The main desired property to achieve from polyethylene (PE) film was high dart impact strength. The combination of gloss and matte effects has given an abstract look to highlight certain areas of the pack.
Peruplast S.A., Lima, Peru, wins a Gold Award for Printing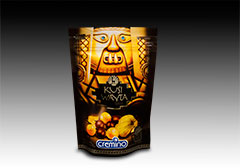 Achievement for the Kusi Wayta package, which the company says superbly presents the Kusi Wayta (Flower of Joy) product, consisting of selected snacks prepared with native Peruvian fruits and seeds. The packaging format and the graphics featuring native motifs and landmarks perform the function of communicating very effectively to the consumer the gourmet and native characteristics of the product, the material structure providing the required protection for the sensitive contents. A smart distribution of glossy and matte areas greatly enhances its shelf impact.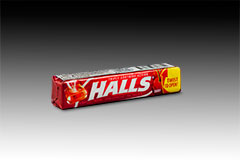 Sonoco Products Co., Hartsville, SC, receives a Gold Award for Technical Innovation for the Halls "Twistoff" Stickpack, which allows a single cough drop to be dispensed without losing other drops from the package into your purse or pocket. The latest technology is Sonoco's micro-perforated stick wrap that helps facilitate consumer usage of the product while maintaining the barrier properties keeping the remaining product fresh. With a simple twist of the package, the consumer has their individual cough drop and the rest of the product stays in place.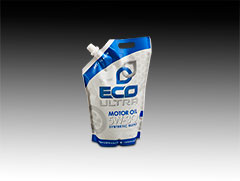 Star Packaging Corp., Atlanta, GA, takes home a Gold Award for Environmental & Sustainability Achievement and a Silver Award for Packaging Achievement for the Eco-Ultra Motor Oil Pouch. As the nation's first domestic retail motor oil packaged in a sustainable, flexible pouch, the package brings together all the outstanding benefits of flexible packaging into a new product category dominated by rigid HDPE packaging. The FlexPak pouch provides for significant reductions in materials, energy consumption, emissions, transportation, and landfill waste.
"Our Eco Ultra FlexPak has literally broken the mold in the retail motor oil marketplace," said Jan Horsfall, Univeral Lubricants' chief marketing officer. "Consumers want to choose products that are good for the environment without sacrificing product quality and performance. Thanks to our partnership with Star Packaging, we have created a breakthrough product that embodies high performance, innovative design, and sustainability."
The three-layer Eco Ultra FlexPak features a pour-spout engineered by Innovative Packaging Network that prevents the traditional glugs and bubbles from bottles that cause splatters and spills. It has a polyethylene barrier that provides superior burst and seal strengths required for the rigors of oil.
For a complete list Silver Award winners, visit flexpack.org.