Published: May 23, 2013
Deerfield, IL | Pregis Corp. is introducing Stretchfoam, a proprietary polyethylene (PE) resin blend sheet foam with multidirectional stretch for protective packaging applications.
Stretchfoam represents the latest addition to the company's Microfoam line. Initial customer feedback reports a 10% yield increase compared to other sheet foams, making Stretchfoam a cost-effective protective packaging solution.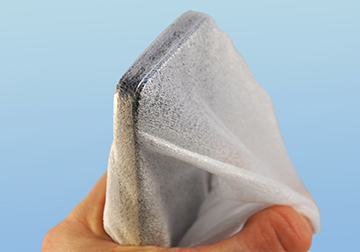 Pregis' new "soft to the touch" Stretchfoam provides several attributes that benefit a wide variety of wrapping, surface protection, or interleaving applications. Stretchfoam has been engineered with multidirectional stretch that resists tearing or "zippering." This makes it an ideal protective packaging material to wrap around products with irregular edges, such as lighting fixtures, automotive components (wheels, trim, etc.), furniture, window or picture frames, sporting equipment, electronics, hardware, industrial, jewelry, appliances, etc.
Stretchfoam also offers the same high coefficient of friction (COF) long associated with the Microfoam line. This means that the sheet foam clings to the item it is protecting. (Low COF materials slide back and forth increasing the chance that sensitive product finishes will be subjected to abrasion.) No curing agents are used so there is no grease transfer to the part it protects.
"Products typically vibrate and shift during transit. When they have polished metal surfaces or other sensitive finishes, it becomes even more important that the cushioning material used for protection isn't the very thing that causes damage. Our new, softer Stretchfoam with its high COF and clean, white appearance delivers both performance and protection," explained Daché Davidson, director of marketing, Pregis.
Microfoam Stretchfoam's attributes make it an ideal choice for fulfillment operations, as well as production facilities. Good compression strength also enables reuse, extending shelf-life to more than one trip. Additionally, lightweight Stretchfoam positively impacts shipping costs and handling ergonomics. Pregis also makes it easy for customers to benefit from its excellent cushioning properties by offering readily available 1/16- and 1/32-in. thick stock sizes in 48-, 60- and 72-in. roll widths. Custom options also are available.
The Microfoam line is well-suited to provide product protection in markets such as: agriculture, automotive, cosmetics, construction, electronics, appliances, food, fulfillment/mail order, furniture, housewares, moving/storage, pharmaceuticals, publishing, and transportation.
This email address is being protected from spambots. You need JavaScript enabled to view it.