Published: May 09, 2013
BLAUVELT, NY | First announced in 2010, a European Union Council Directive (2010/32/EU) on the prevention of sharps (syringe) injuries in the hospital and healthcare sector is set to be implemented into national legislation of EU member states on May 11, 2013. To help US pharma manufacturers doing business in Europe comply with this directive, Schreiner MediPharm, a Germany-based global provider of specialty pharmaceutical labeling solutions, offers Needle-Trap, a system designed to protect healthcare providers from accidental needlestick injuries from disposable syringes.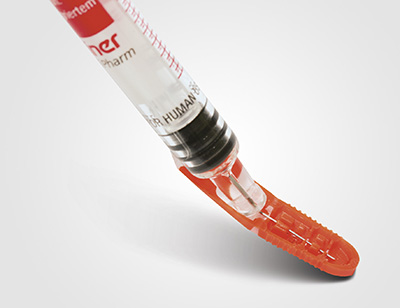 Roughly 3.5 million work-related needlestick injuries occur globally every year. The new EU Council Directive intends to help protect healthcare personnel through increased safety precautions, such as the use of medical instruments with integrated needle protection. Similar safety measures against sharps injuries demanded by the FDA and NIOSH have been in place in the US for several years already.
Schreiner's Needle-Trap system, which meets the upgraded safety mandates of the new EU Council Directive and also has been awarded FDA 510(k) clearance for marketing in the US, features a safety mechanism integrated as a component of the self-adhesive syringe label. This compact, economical design allows the blood-contaminated needle to be simply and safely secured following its use, and can be easily operated by healthcare personnel in a controlled, single-handed fashion. After the needle has locked into the plastic trap—an action clearly perceptible by a clicking sound—it is irreversibly protected. Needle-Trap is currently used on millions of syringes produced by leading, multi-national pharmaceutical companies.
Needle-Trap can be easily integrated into conventional packaging and labeling systems, since it is processed and dispensed like a single-layer label. Furthermore, it is adaptable to all standard syringe dimensions. Needle-Trap requires no additional storage space and is housed in common secondary packaging, adding to its cost-effectiveness and simplicity of integration. To reduce the risk of medication errors, optional detachable documentation labels also are available.
"Needle-Trap is a smart, affordable way to comply with the worthwhile new safety directive put forth by the EU Council," said Gene Dul, president of Schreiner MediPharm U.S. "It also can be used efficiently with one hand, an important factor given the often hectic environments in which healthcare personnel perform their duties."
This email address is being protected from spambots. You need JavaScript enabled to view it.