Published: July 09, 2012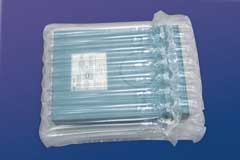 DEERFIELD, IL | Pregis Corp. is announcing nine new stock sizes of its innovative ChamberPak custom cellular cushioning. The new sizes have been designed to provide a packaging alternative for the growing original and refurbished consumer electronics (smart phones, laptops, tablets, ebook readers, etc.) market.
ChamberPak patented design features a series of adjoining air tubes that are securely inflated to cushion and protect products during shipment. The tubes are connected via a series of patented one-way valves. If one chamber is punctured, the others remain inflated. Made from a coextrusion of low-density polyethylene film and nylon, ChamberPak also has superior air retention.
"The product is ideal for components which require added protection. Contents packaged in ChamberPak can typically withstand multiple drops. The package performs long after other types have failed," said Tony Smith, general manager, specialty products, Pregis.
ChamberPak ships flat, which offers shipping and storage benefits compared to expanded polystyrene or molded pulp structures; 20,000 ChamberPaks can fit on one skid vs. a couple hundred sets of EPS or molded pulp types. This also helps reduce fuel consumption and carbon emissions.
Further, deflated/flattened ChamberPak structures create less solid waste vs. molded EPS and foam-related materials. Secondary packaging size can be reduced to save materials and reduce waste. Transport cube of the final package also is reduced offering yet another environmental benefit.
"Our research tells us that overall packaging costs can be reduced as much as 45 percent by converting to ChamberPak. Additionally, our reduced lead times and ability to quickly create custom designs, helps meet customer's speed-to-market objectives," said Smith.
ChamberPak is inflated through an external valve in a matter of seconds, making it easy-to-use. (Air travels through a sequence of air chambers, which expands the package to its intended size.) The package is then loaded into a carton for shipping.
Unlike some alternative methods of protection, ChamberPak is transparent, providing quick and easy identification of the contents. Additionally, it can be reused, further extending its cost-effective profile.
The nine new stock sizes range from 6.5x6.25 in. for smart phones to 17.5x29.75 in. for 17-in. laptops. Tube widths vary from 1/2 to 2 in. Pregis offers additional custom and stock ChamberPak solutions for a variety of product and market applications including wine/beverages, cosmetics, pharmaceuticals, giftware, automotive aftermarket, toner cartridges, and ecommerce.
"With billions of dollars of refurbished consumer electronics being sold annually, most of which have long been parted from their original packaging, ChamberPak provides an excellent way to protect the product as it journeys to its next user," Smith said.
This email address is being protected from spambots. You need JavaScript enabled to view it.