Published: January 12, 2020
The relationship between Uteco Group and ESI is reportedly strengthened as the commercialization of the Gelflex-EB technology begins to make an impact and Uteco's Diamond Flexo press is designed to accommodate this technology.
GelFlex-EB technology offers customers a cost-effective path to gain high resolution print quality that removes over 90 percent of solvents and is sustainable through its use of EB technology.
UTECO and ESI have been involved for years in the development of this technology, which is presented as a great solution for food-safe packaging applications providing different surface print options, promoting less plastic material and higher recyclability as well as core, reverse-print applications both with significant, sustainable results.
"Uteco has long supported the development of EB flexo technology and GelFlex-EB technology answers many of the market's demands. Uteco's patented ThermIlox system manages the ink temperature control in a superior manner giving the customer a repetitive success from job to job. It is always great to see new technology meeting customers' needs," said Aldo Peretti, Uteco's president/CEO.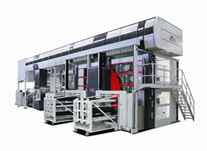 "GelFlex-EB has found its place in the market. ESI and Uteco have had a long and collaborative partnership bringing EB Flexo to market. Combining the patented Gelflex-EB technology with Uteco's state-of-the-art CI-Flexo presses will allow end-users to reach their maximum potential with an affordable Electron Beam solution well suited for food packaging. It takes efforts from the entire supply chain to bring any new technology forward and now that GelFlex-EB is commercializing around the world, I think it's fair to say those efforts have hit their target. I look forward to continuing our work with Uteco and their entire team," added Edward Maguire, president/COO of ESI
"I link up with what Aldo said," said Stefano Russo, Uteco Group COO. "To reiterate that our patented Thermilox system is the essence of this technology, to get a very precise thermo-regulation of the ink layer on the substrate during the run.
The main advantages of the Thermilox® system are: pre-conditioning of the temperature of the ink before sending it to the doctor blade, and keeping constant the temperature of the ink at the correct operating set value, thus optimizing the operative temperature of any specific ink (EB and UV), independently on the color deck."