Published: April 24, 2023
An Often-ignored Way to Improve Packaging Productivity
By Garrett Taylor, Sales Director, SOMA North America
The introduction of faster, wider and more automated printing presses creates a challenge for the printer/converter when it comes to supporting equipment. From plate mounting to clean up, the printer/converter needs ways to be more efficient. A sometimes overlooked area is slitting, where an operator takes multiple lanes of printed or unprinted film and "slits" them down to single lanes.
Any company can benefit from an upgrade to its slitter, but often hold off, investing their funds in other, albeit worthy, software or hardware investments. Like anything else, sometimes the slitter becomes the piece of equipment that chokes the speed of production through the rest of the plant. However, on a basic level, a job can be printed four-, five-, or even more-up, and cut after printing on a slitter, in a fraction of the time.
Today's, newer, automated slitters can keep up with faster presses — even on a wide range of substrates. Automated features make it easier for short runs and quick changeovers, even for inexperienced operators. This can be done whether the film is laminated or complex, printed or unprinted, adapting to both the width of the reel and the weight of the substrate. Automatic knife/blade positioning can ensure quick and precise knife settings, and automatic laser core guiding offers precise and very quick settings on new jobs.
Some systems deliver precise unwind and rewind tension control during the entire operating cycle. Thus, they are able to cleanly slit very thin and difficult substrates. Some can even operate in two modes. One is based on tension preference, automatically adjusting the speed to reach the highest possible tension. The other is based on automatically limiting the tension to reach the desired speed.
Because tension is easier to control, slitters can be used on more, different materials with greater cutting capacity. Newer slitter rewinders have been developed to allow slitting of difficult materials such as diaper membrane, thin filtration nonwovens or rigid PET materials up to 700 microns. Process materials can be as varied as PET, PE, LDPE, HDPE, paper and laminates — among others.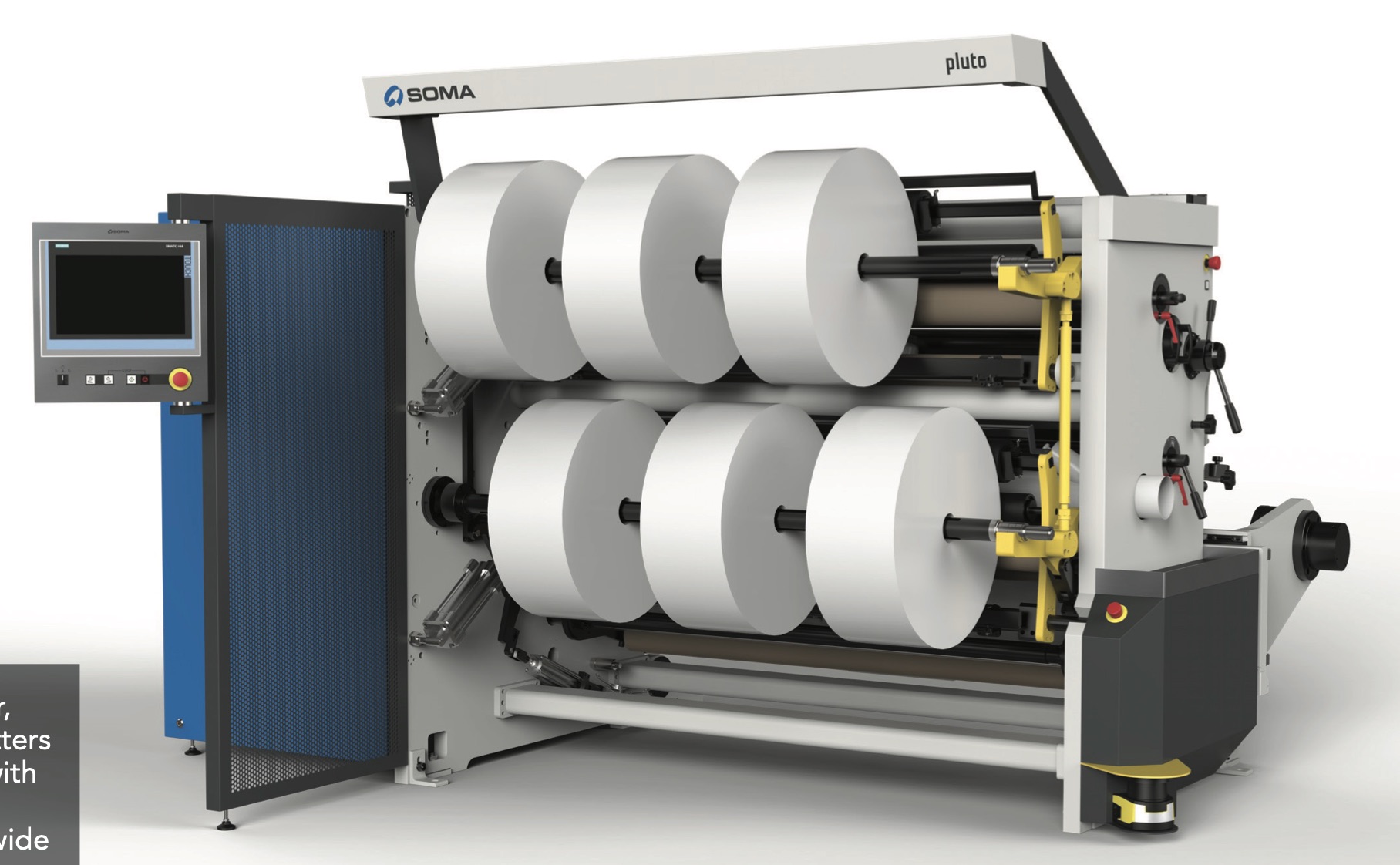 Slitting Techniques
There are different ways to slit materials. For example, a variable knife shaft can permit tangential slitting with lower and upper rotary knives or with "razor blades" cutting against grooved segment, or in air. For more difficult, thinner substrates, it is possible to wrap around a female knife, slitting with rotary knives or with razor blades. It is also possible to have edge trimming with an exhaust using additional razor blades.
Slitter controls have even progressed. Machines can be delivered with a few intuitive panels to help operate the machine — for example, touch screen panels for rewinding and slitting, and a panel in the unwind section of the slitter for parent roll loading. With the addition of intelligent data delivery systems, working parameters for different jobs can be stored in memory, such as speed, tension, lay-on pressure, knife or blade settings, and laser core guiding position information. This puts less reliance on the operator, reducing manual error.
Ease is not exclusive to control panels. Many slitters use a cart to load rolls, with the potential for one to drop, causing an accident — not only damaging the material but, much more important, causing serious injury. Some slitters offer devices to easily transport finished rolls from the rewind shaft to the cart using arms that rotate out. That way, no one has to pick up the roll itself, and operators don't have to stress and hurt themselves with large, heavy rolls. The unique design of the rotary support arms for each rewinding shaft during change-over allows heavy reels to be handled without the risk of overloading the rewind shafts. The unloading mechanism delivers the finished slit rolls to a stand that rotates so rolls can be taken off a machine and put aside, making it much easier to move on to the next roll and deal with the finished rolls when time allows.
On or Off?
There is an interesting debate about inline (on a press) or offline slitters. The benefit of an inline slitter is that the job is printed and cut concurrently while the job is being printed on the press. However, some companies consider an off-line slitter to be more efficient and sort of an insurance policy. They have decided that if there is a problem with the press, they don't have to stop production completely. The slitter can still run while press issues are resolved.
Those companies who work with pharmaceutical and food packaging, where strict hygiene with clean room standards is imperative, can even decide to install an overhead web path — away from handling and dirt.
In summary, most companies find that investment in a new slitter has been worth it. Besides accelerating production speeds, they offer the printer/converter two attractive options: One is a more productive, cost-effective means to produce their packaging. The other, for many customer-oriented thinkers, is to pass on a good part of these savings to the brand owner, creating even greater loyalty.
About the Author
As SOMA North America Sales Director, Garrett Taylor has 25 years experience in the printing and packaging industry; and specifically with flexographic printing. He plays a significant role in developing SOMA's operations in North America, confirming SOMA ́s commitment to bringing the latest flexo technology to the U.S. and Canada, with real benefit to customers. He can be contacted at This email address is being protected from spambots. You need JavaScript enabled to view it..