Published: January 24, 2023

Dover Flexo Electronics (DFE) is a recognized leader in tension control solutions, with 47 years experience designing and manufacturing load cells, amplifiers, display indicators, closed-loop controllers, pneumatic brakes and idler rolls. DFE tension systems deliver improvements in material processing productivity and reliability, helping to reduce waste and operating costs. Industries such as flexible packaging, paper, film, foil and converting are their specialty.
Investment in a new tension measurement system often begins with the installation of a Tension Roll® transducer or cantilevered Narrow Web transducer. The Tension Roll® and Narrow Web both combine a roll shell with dual tension sensors in a robust, shaft-centric design. The roller systems are ordered to spec and require no assembly — just bolt them onto the machine. Tension Rolls® are available in 2.25, 3, 4, 5 and 6 inch diameter, from 6 to 120 inches in length. Narrow Web transducers are available in 2.25, 3 and 3.5 inch diameter, from 6 to 20 inches in length. Load ratings from 12 to 400 lbs are available on both systems. Custom engineered roll diameters, lengths and coatings are available by request.
DFE also manufactures Model C cartridge-style tension transducers, considered to be the industry standard in high-sensitivity semiconductor strain-gage load cells. These workhorse tension sensors are available to support live-shaft and dead-shaft idler rolls with a wide variety of mounting styles and load ratings that range from 10 to 800 lbs.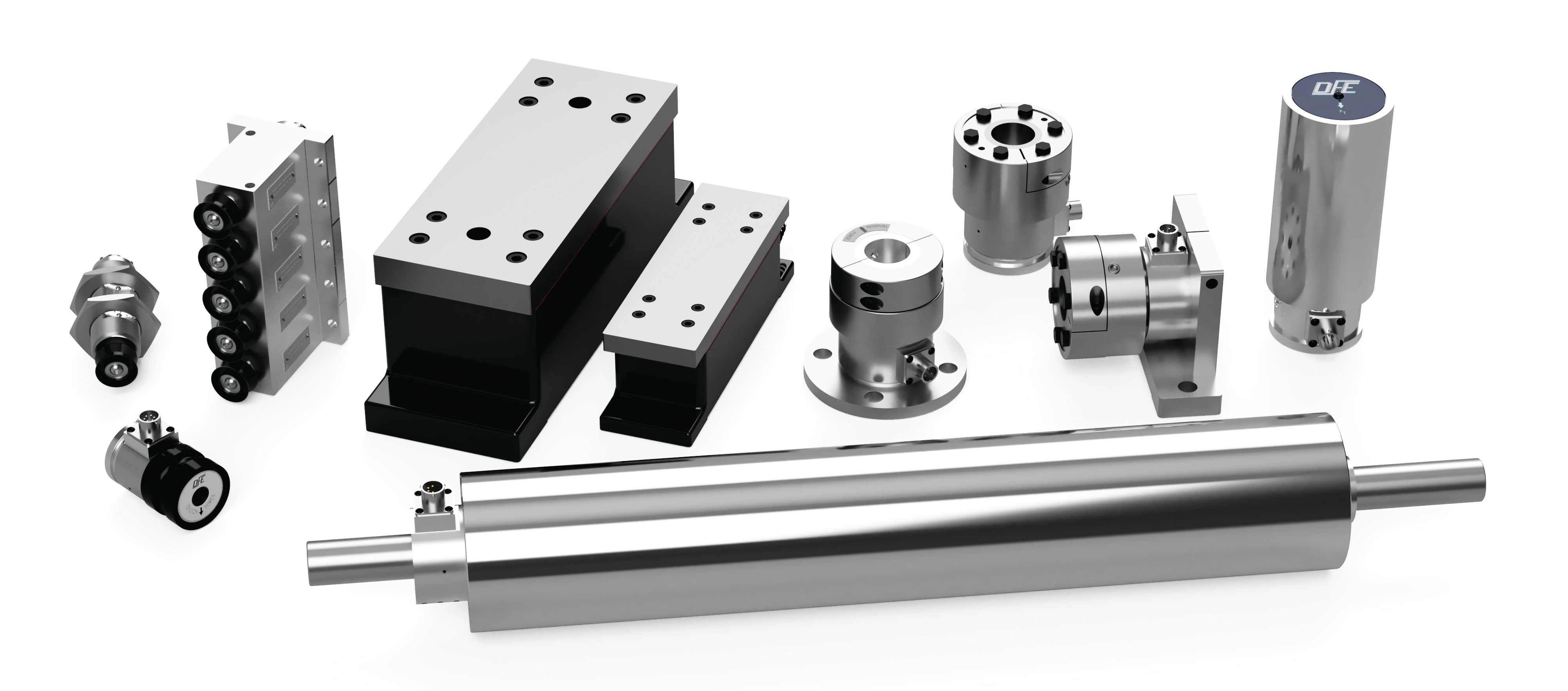 The semiconductor strain-gage technology featured in all DFE load cells delivers up to 33x more signal performance than some foil gage alternatives. In combination with the refined digital signal processing techniques used in their amplifiers, indicators and controllers — DFE's tension systems are capable of delivering an incredibly wide range of sensing performance for a given load rating. This technology advantage provides added flexibility for customers who may need to repurpose their load cells for new applications or evolving job requirements.
DFE's newest TrueView™ 1100 series touchscreen tension display indicator features an easy-to-use HMI menu and integral trend graph. Other features include a bright 500 nit, impact-resistant display and a compact, aluminum enclosure machined from solid 6061-T6 alloy for excellent durability and heat dissipation.
In 2021 DFE launched the TA500-EIP tension amplifier. This new flagship signal-conditioner features simultaneous EtherNet/IP™ and analog connections for compatibility with current and next-generation PLC systems. Other features include onboard diagnostics, web browser configurator, EDS file support and Quik-Cal™ push-button zero and calibration. The TA500 is CE-marked and ODVA conformant.
The turn-key, SteadyWeb™ 6 digital tension controller delivers precise closed-loop performance with an incredible amount of flexibility and adjustment. SteadyWeb™ 6 was designed with modularity in mind, providing torque control options for electric and pneumatic brakes, clutches and motor drive systems.
DFE's full line of pneumatic tension brakes are both simple to operate and reliable. The time-tested design features stress-relieved ductile iron discs, tool-less quick-change pads and limited-travel pistons. Patented Silencer™ friction pads are extremely effective at eliminating brake squeal — providing environmental and safety benefits for operators who work in close proximity to braking systems.
All DFE manufactured products are made in the USA and backed by an industry-leading 5 year tension-free warranty.
Phone: (603)332-6150
Website: www.dfe.com