Published: October 10, 2022
By Keith Hamilton, Sales Manager, Deacro Industries, A Davis-Standard Company
The converting industry continues to face limited labor resources and tighter profit margins. Specific to slitting rewinding, for applications such as medical and flexible packaging, pressure-sensitive labels and tapes, automation is gaining traction by allowing processors to do more with less.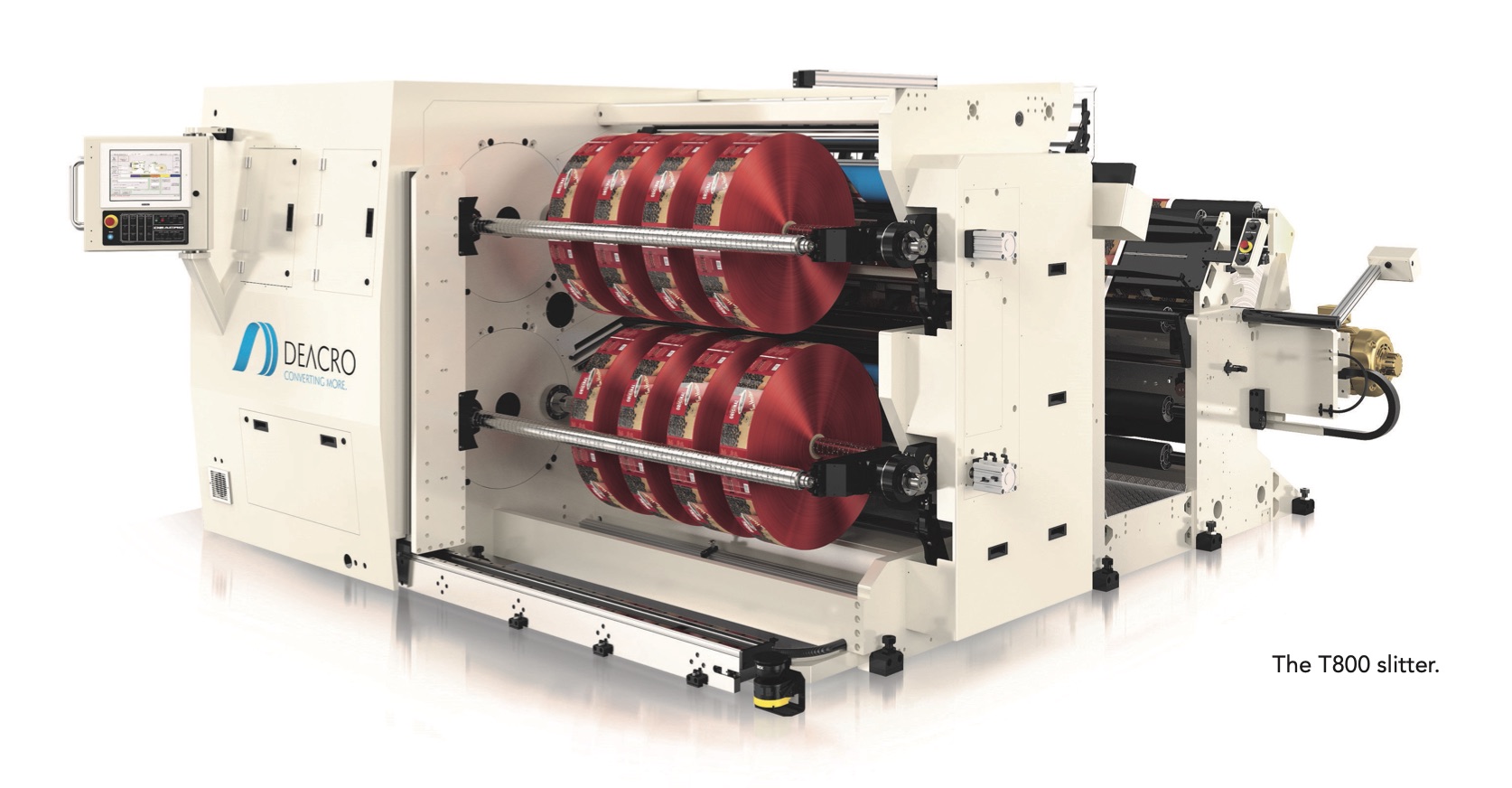 In fact, full or partial automation of the slitter with turret rewind technology enables one operator to do the work of three when compared to non-automated. It also promotes time savings and operator safety. Following are automation options and the benefits:
Turreted rewind – One operator can unload rolls and position cores during slitter operation.
Auto web cut and transfer – Cutting the slit roll tails and transferring tails to the next core is automated, saving time cutting webs and taping, and aligning webs to the next set of cores.
Razor web cut-off or optional sear/score – This enables cutting before turreting to keep tails short and maintain web alignment/tension on outside wraps while eradicating waste.
Auto core positioning and placement – With laser positioning, auto core loading from the hopper and auto core placement and cutting, the cores can be cut, loaded and positioned onto rewind shafts without operator intervention.
Digital knife positioning – By using a digital operator, knife positions are saved in a file recipe database and a digital tape measurer shows the correct position. No manual measurement is needed and placement is accurate every time.
Auto knife positioning – This feature can be fully integrated into slitter controls for handling razor/sheer or score slitting, auto-calibration and auto knife position verification.
Auto roll unloading – Rolls can be automatically pushed off the rewind shaft with several receiving stations available per application. This eliminates manual movement of heavy rolls from slitter rewinder shafts. You can also implement palletizers with pivot features to prevent unnecessary lifting and bending, essentially allowing rolls to reach the conveyor without any operator contact.
Auto web taping – This reduces operator involvement for inside web taping, outside roll taping, label application to tail-tie rolls and end-of-roll warning tapers.
Automated setup – There are several ways to automate setup in order to avoid unintended errors and provide time savings. This includes unwind roll auto-centering, web guide positioning, auto lock rewind tooling, dual-durometer lay-on capabilities and cantilevered rewinds to eliminate shaft handling.
Auto roll packaging – By using robotic arms to automate the labeling, weighing, wrapping/bagging and pallet wrapping processes, manual labor is not necessary to package finished rolls.
Industry 4.0 – To support operator education and productivity, consider using a cloud-based platform such as DS Activ-CheckTM to take advantage of remote technology support, data acquisition, third-party data interfacing, remote communication, tension monitoring, warning notifications and more.
Early notification of potential failures, accumulating valuable data for process improvement and using configurable dashboards are the way of the future. Here are a few examples that contribute to consistent roll quality, regardless of operator experience level:
Tension mapping assists maintenance staff in identifying changes in tensions from wear, allows verification of tensions throughout roll buildup and uses a feedback loop for auto-correction.
Database file management acts as a training aid for new operators. Operational parameters can be saved for easy recall, repeatable processing and consistent rewind quality.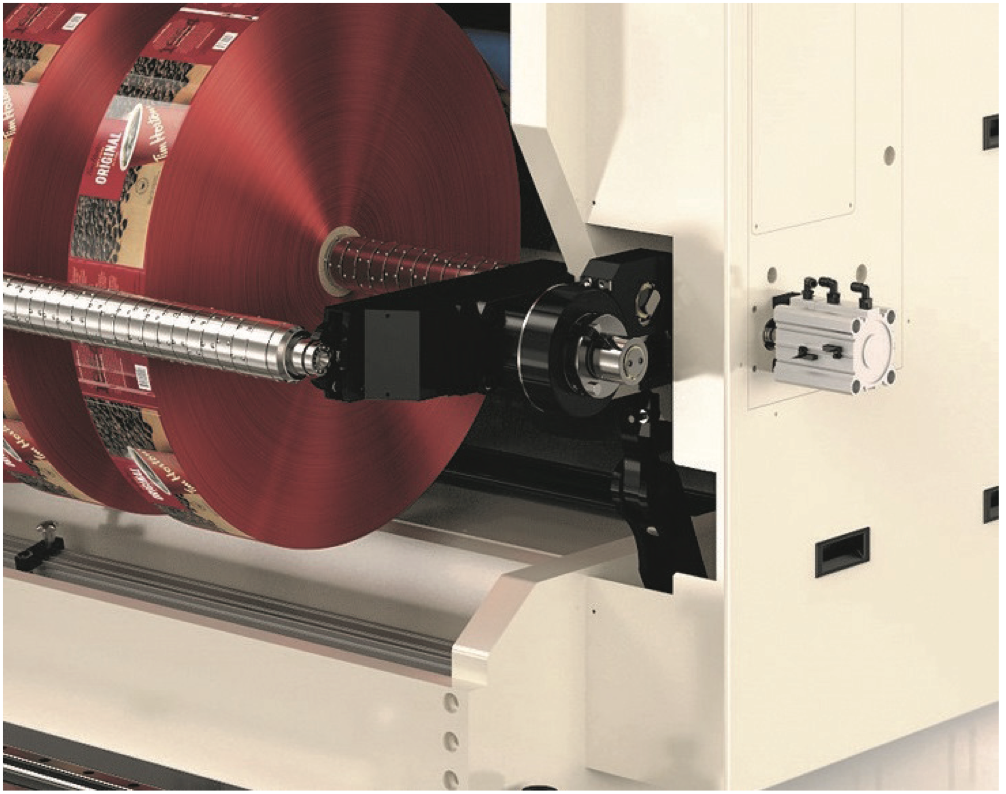 What steps should processors take to add automation and get the most out of existing machinery and operator resources? The good news is, upgrades on existing equipment are readily available, and we can do a machinery performance audit to determine the most feasible approach. Some or all of the automated options mentioned here can be evaluated to see what is best for your operation and budget. In addition to machinery automation, any concerns you may have about operator safety protocols can be addressed.
This includes items such as adding safety fencing with access gates, non-physical barriers using PLS safety scanners, light curtains as required by application, programmable safety circuits and safe speed operator access during setup. I also recommend regular, preventative maintenance and equipment care for best results.
Based on the number of high-growth markets that require slitter rewinder technology, investing in automation is a worthwhile endeavor in terms of labor, time and safety. Do not hesitate to see how automation can make a difference in your overall efficiency.
About the Author
Keith Hamilton has more than two decades experience with Deacro Industries Ltd., a leader in the manufacturing of quality, high-performance slitting and rewinding machines. To learn more about using automation to increase efficiency, visit https://davis-standard.com/contact/.