Published: March 30, 2021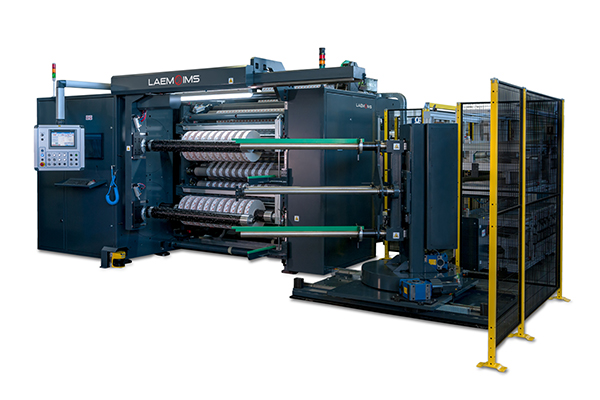 Advancing Slitter-Rewinder Equipment
Considering the great number of slitter-rewinder manufacturers worldwide nowadays, the equipment selection has been more challenging every day. Despite the technology and features being comparable, converters should always focus on several key factors that can dictate a highly successful acquisition of a new slitter-rewinder. Starting from a machine feature standpoint, within many considerations LAEM IMS could recommend, there are: robustness/vibration-fee equipment, supreme tension control, speed, safety, automation, slitting precision, roll covering type, Advanced HMI/user friendly, high quality components and flexibility in customizing the equipment for the specific needs (material, process, ergonomics, etc.). How to choose? Look for a supplier that sells you a solution rather than a piece of equipment. Ask what else the machine can do for your business and how efficiency, high productivity and low waste can get you a ROI faster than expected.
Furthermore, converters must evaluate the OEM based on their reputation in the industry, company strength, local service, references, etc. IMS TECHNOLOGIES has a 170 years' history serving the industry with excellence in Europe-U.A.-China-India. The company belongs to a very solid Italian group, using only top-quality suppliers: the verticalization process in the manufacturing of the slitter rewinders guarantees unparallel results. Indeed, all the processes from designing, engineering, automation, software, CNC machining of the components, painting, assembly, testing, installation and after-sales service are all integrated within the group.
The company has a development center located in Italy called mylab where it keeps key equipment in the showroom. The goal of the mylab is to be able to run trials with customer's own material, display the company's technology and show converters the machine before buying, in order to appreciate the high quality and technology that can bring the converting business to the next level.
To tell more about their area of expertise in slitter-rewinding equipment, IMS took some time to answer a few questions from PFFC.
Some winding methods are "open-loop" with no load cell or dancer roller to provide feedback or calibration of tension. How does your equipment calculate or estimate tension without load cells or dancers?
When not using load cells or dancer rollers, the tension is controlled by an open-loop platform based on sophisticated algorithms which estimates the actual tension based on measured values such as motor current absorption, etc.
Usually the "open-loop" tension control without load cells or dancer rollers are implemented for cost reduction. At IMS TECHNOLOGIES, we have closed-loop controls as standard using either load cells and/or dancer rollers allowing to take high advantage of the system in terms of precision when controlling the web tension.
In answering question #1, there are inefficiencies of how applied torque becomes tension, such as rotational resistance, changes in friction, and contamination. How do you ensure controlling torque at the source creates desired tension with changes in these inefficiencies?
In every machine designed and manufactured, LAEM IMS, brand through which IMS TECHNOLOGIES operates in the field of flexible packaging industries and converting, develops unique software with sophisticated procedures to execute the auto-tuning sequence of each single motor and drives allowing to compensate those inefficiencies in the tension control both in open and closed loop mode, ensuring the desired results.
How do you recommend a converter find the winding recipe for a new product such as changes in thickness, width, stretchiness, coatings, friction, etc.?
The operator only needs to input the type of material, width, and thickness, and the LAEM IMS slitter rewinder's advanced software will automatically reset the machine accordingly. Data settings for the most common materials are already pre-loaded in the system. The required suggested tension settings are calculated by a proven algorithm and the predicted values will be displayed for review and evaluation on the operator control panel. The values can then, if necessary, be fine-tuned during the production for utmost results as each master rolls has its distinctive characteristics.
Additionally, LAEM IMS slitter rewinders have the feature to save all the settings into recipes which can be recalled for repeating work processes.
How do you recommend a converter make decisions on finished reels changeover methods? When is automatic finished reels transfer needed? What tools or designs help reduce downtime changeovers?
LAEM IMS offers a wide range of slitter rewinders, from manual and compact to fully automated high-end models including complete end-of-line automation and fulfill the offer that IMS TECHNOLOGIES has committed with the converting sector.
Based on the productivity and process required by the converters, LAEM IMS will make a full analysis of the process and application to propose the best solution for every specific purpose. Based on the slitter rewinder model, several automated features can be implemented such as fully automated positioning of the slitting knives, automatic loading and positioning of the rewind cores, automatic tape application, closure of the finished rolls, unloading of the finished rolls including additional unloading station. Furthermore, LAEM IMS offers a unique end-of-line automation to handle the finished rolls from the unloading station downstreaming to automatic packing stations which also includes weighing system, internal and external labelling, bagging, and palletizing.
What new technologies and products have you incorporated into your product portfolio? How do they benefit converters?
Within the dual shaft and turret slitter rewinder range, LAEM IMS has incorporated two new series in portfolio to complete its product line: RIBOSLIT 2/4, the new compact slitter rewinder available in dual shaft and turret version, as a perfect trade between performance, flexibility and return of investment. Then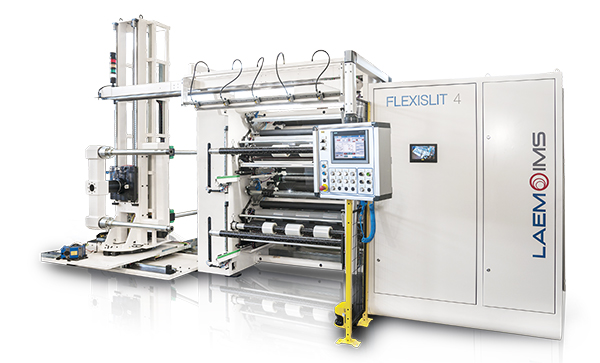 FLEXISLIT 4, available in turret rewinder version only, developed for high performance, productivity and full automation; this machine is the perfect choice to pair with our end-of-line automation for a state-of-the-art downstream material handling.
How are your products or services helping companies to achieve sustainability goals?
LAEM IMS has implemented a system called MAIA to interface with all the machines installed at the converter's plants and to the cloud where production data are gathered for further statistics, review, improvement.
Inside MAIA platform, it is implemented an OEE measuring and reporting functions with full integration into the ERP system of our customers (full "Industry 4.0"). Additionally, all our slitter rewinders are equipped with regenerative drives allowing to balance the power consumption and input back to the power system, not dissipating energy on passive devices such as resistors; all is active and regenerative like the Kers system in cars.
What are some unique challenges your customers faced in 2020 and how did you help them overcome these?
Indeed, the COVID pandemic has created several issues for travelling domestically and internationally and therefore many of the customers could not receive in-person visits from our technicians in order to install new machines or service existing equipment. Thanks to remote connection, augmented reality glasses and interaction systems, LAEM IMS has been able to keep its full service to the customers as well as to install and commission new slitters rewinders remotely.
The LAEM IMS Service has benefitted a great boost also thanks to the support of IMS TECHNOLOGIES, a Group with important resources in this particular area of customers relationship. Under IMS TECHNOLOGIES service team supervision, the customer's personnel equipped with our augmented reality glasses has been able to install, test, commission and run production on the new machine all by themselves.