Published: March 09, 2020

With the recent addition of its new subsidiary Deacro Industries Ltd, Davis-Standard is able to deliver converting solutions for paper, film and foil products from concept to finished rolls. Deacro has an outstanding portfolio of high-performance slitting, rewinding and roll handling equipment for a wide range of web-based applications such as film and flexible packaging. This coupled with Davis-Standard's extrusion and converting equipment positions both companies for global growth under one umbrella. An expanded manufacturing footprint with substantial engineering and manufacturing resources enables tailored solutions for best-in-class technology and support of customers worldwide.
The ability to offer customers a collaborative and worry-free approach to development, installation and training from start to finish is a significant advantage. This includes a 24/7 service hotline, an extensive spare parts inventory, and on-site technical services to help avoid costly downtime and boost productivity. Equipment upgrades/retrofits and controls are available to support new system performance without a new system price.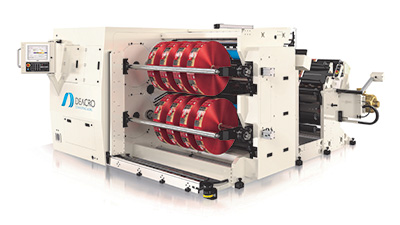 Both brands will continue to represent their market-leading technologies and innovative product solutions to the converting industry. Davis-Standard's extrusion coating machinery fulfills even the most demanding flexible packaging, non-wovens, paper and board coating and laminating applications. This includes laboratory-size systems for R&D to five-meter-wide systems for industrial materials. Davis-Standard is known for innovation in automatic profile control (APC), deckle and die options, multi-coating solutions, web handling, transfer unwinds and winders. Proven controls and industry-leading feedscrews further contribute to quality processing and efficiency.
Likewise, Deacro offers a robust line of salvage rewinders, slitter rewinders, turret slitters and core cutters. Unique to Deacro are the company's roll lock differential air shafts, closed-loop rewind tension control and auto core placement. The air shafts are ideal for tension sensitive materials, clean running environments and rapid setup applications. Roll lock segments are stacked across the shaft eliminating the need to set up spacers. When rewinding is complete, the roll locks can automatically disengage for the finished rolls to be unloaded. Deacro's closed-loop rewind tension control option gives operators excellent control over the rewinding process. This option is particularly helpful for converters running tension-sensitive materials such as light gauge, extensible films. With auto core placement, the core can be automatically located on the rewind shafts by a variety of methods. A core hopper holds several sets of cores for fully automatic operation. Cores can be loaded as a set or individually depending on cycle time requirements.
Davis-Standard and Deacro employees will support specialized application needs and work with customers to develop tailored solutions. For more information about Davis-Standard, visit www.davis-standard.com. For more information about Deacro, visit www.deacro.com.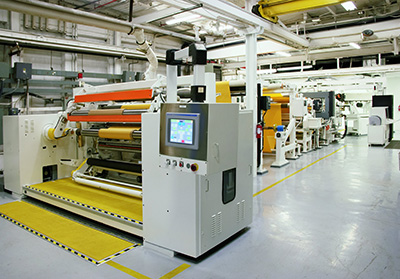 About Davis-Standard, LLC
Davis-Standard, LLC (www.davis-standard.com), headquartered in Pawcatuck, Conn., is a global leader in the design, development and distribution of extrusion and converting technology. Davis-Standard systems encompass over 10 product lines to support manufacturing applications and customers within every major industry. This includes the agriculture, automotive, construction, healthcare, energy, electronics, food and beverage packaging, and retail industries, among others. With more than 1,350 employees worldwide and a network of independent sales agents and suppliers in nearly every country, Davis-Standard is committed to engineering systems that are cost effective, environmentally friendly, and offer a high return on investment. The company has manufacturing and technical facilities in the United States, Canada, China, Germany, Finland, Switzerland and the United Kingdom.