Published: May 23, 2012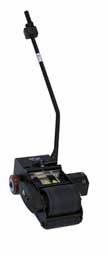 NEENAH, WI | Appleton Mfg. Div. reports Wausau Paper, Mosinee, WI, has improved safety and its bottom line by investing in the Appleton Heavy Duty Large Roller (HDLR) RollMover. Wausau replaced its infrastructure of air-roll movers with the compact, battery-powered HDLR RollMover, and as a result, increased productivity in handling its output of up to 360 parent rolls per day.
A major provider of tissue and towel, Wausau sought alternatives to its traditional air movers after an internal evaluation found the air movers to be costly, needing frequent repairs, having limited range due to the air hoses, and were wasteful in that the outside of each parent roll was being damaged by the air movers' use. In addition, the air hoses were found to be trip hazards. Wausau found the HDLR RollMover to be the solution that would eliminate these issues while still reducing the risk of back and other human injuries.
The Appleton HDLR RollMover is specifically designed for towel and tissue rolls by incorporating a larger drive roller to minimize product damage, and being battery-powered, it is able to service multiple converting lines without requiring hose extensions or additional infrastructure. Utilizing Appleton's battery technology, Wausau will save thousands of dollars annually on air-leak repairs alone, while at the same time increasing output per roll by preventing damage during roll handling.
"Eliminating the cost of repairing air hoses will save us money," says Jim Radcliffe, Wausau's VP of operations. "Our bottom line will further benefit because we're able to get more undamaged and finished materials off of our rolls using Appleton's HDLR than with our previous system. Workers appreciate how useful the RollMover is as well. Just the other week one of our staff stopped me at the plant to say, 'Thanks for getting the RollMovers, they are the best work tool we've bought for the floor.'"
This email address is being protected from spambots. You need JavaScript enabled to view it.