Published: June 28, 2017
TOPEKA, KS | The Foil & Specialty Effects Association (FSEA) has announced the winners in the 24th Annual FSEA Gold Leaf Awards Competition. More than 300 entries were received from countries around the world. Gold, silver, and bronze winners were honored in 36 categories, and the Best of Show and Best of Show Honorable Mention were recognized during the IADD (http://www.iadd.org)·FSEA Odyssey held in Schaumburg, IL.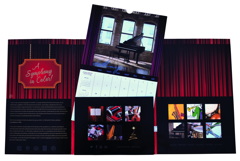 The competition evaluates submissions that utilize a wide range of specialty finishing techniques, from foil stamping and embossing to specialty coating, film laminating, laser cutting, die-cutting, and cold foil applications. Submissions come in a variety of formats, including book covers, point-of-purchase displays, folding cartons, promotional pieces, calendars, and more. The pieces are assessed on design, execution, and level of difficulty, with the highest honors going to those companies that best execute the decorative enhancements. The FSEA Gold Leaf Awards Competition celebrates the quality, added value, shelf presence, security, and brand recognition that these finishing processes lend to the printed sheet.
The 2017 Best of Show award was presented to J.S. McCarthy Co., Augusta, ME, for its 2017 "A Symphony in Color" calendar. The design was entered in the category of Best Use of Foil and Embossing – Self Promotion. Each year, J.S. McCarthy creates a marketing piece to illustrate the company's capabilities for its customers, showcasing a compilation of the talents of its craftspeople and highlighting its printing capabilities and most-requested finishing techniques. In 2017 the team used a symphonic theme to create a multifaceted sensory experience. From the die-cut, scored, folded, and glued-by-hand cover to the 12-pg calendar featuring foil stamping, embossing, debossing, UV coating, soft-touch coating, and more, to an interior panel that activates a sound chip playing Beethoven's 5th symphony when opened, the calendar was deemed worthy in every way of the Best of Show award.
Honorable Mention was presented to KURZ Transfer Products, Charlotte, NC, for "Creating New Horizons," its entry in the category of Best Use of Foil and Embossing – Self Promotion (Industry Supplier).
To view all the 24th Annual FSEA Gold Leaf Award Winners, visit this link. (http://www.fsea.com)