Published: February 14, 2017
ROLLING MEADOWS, IL | Spartanics offers the SR350 Semi-Rotary Label Converting Solution, said to provide faster speeds, higher quality cuts, and faster job turnover times. The system offers 350-mm-wide semi-rotary and full-rotary die-cutting options with auto back scoring, dual rewinds, and many other converting options.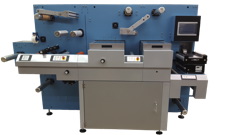 "We are very excited about the SR350 as an entry-level finishing solution for the label converting market," says Mike Bacon, VP of sales and marketing. "Since Spartanics is best known for laser die-cutting systems, we have taken extra care to build a modular system that will allow our customers to add laser die-cutting in the beginning or at some point in the future."
The SR350 is a base model solution that company says is best suited for entry-level label converters and manufacturers and has a user-friendly compact design ideal for label converters that are searching for an efficient solution to perform quick job changeovers without sacrificing quality results.
By operating at speeds of 30 mpm, the SR350 is able to achieve quality cuts at faster cutting speeds. For label converters looking to sustain even faster cutting speeds, the SR350 is available with a high-speed cutting option that will meet market demands for label converters that are investing in digital printers operating at 50 mpm and above.
This email address is being protected from spambots. You need JavaScript enabled to view it.