Published: August 15, 2014
LENEXA, KS | Preco announces the expansion of its Abrasives Laser Processing Center in Somerset, WI. Reportedly responding to customer demand, the company has expanded production capability with the addition of another high-production laser system to support contract production of laser-cut abrasive discs for abrasive manufacturers.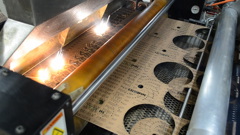 For more than 50 years, Preco has supplied abrasive manufacturers with die-cutting presses for the production of abrasive discs. The company says the opening of this production center continues its support in this key market by providing abrasive converters with access to the latest laser processing technology configured specifically for the abrasives market.
According to Preco, abrasive manufacturers continue to be pressed by their customers to supply complex features, micro dust-free holes, or short production runs at low price points. However, the cost of high powered laser systems for the abrasives market is often a barrier to purchase, especially for smaller converters. The company says it addresses that obstacle with this new offering, and an added benefit for abrasive converters will be test marketing new designs or for rapid market introduction of new products.
The new abrasive laser system consists of a "roll to part" processing system capable of handling 30-in.-wide rolls. The high-powered multiple laser system is capable of processing internal features and also periphery cuts at high production rates. Finished discs are separated from the web and counted and stacked by robot for insertion into customer packaging. The laser system is configured for high through-put, reportedly resulting in competitive pricing and quick turnaround. Converters can run long-term production or it can be a short-term solution as company builds a production system for the converter.
This email address is being protected from spambots. You need JavaScript enabled to view it.