Published: January 15, 2014
FAIRFIELD, OH | Schober has announced the successful installation of its Single Spider Automated Robotic stacking system onto an existing installed RSM Rotary Die-Cutting Machine in North America. This marks the first North American installation of this high-speed stacking technology.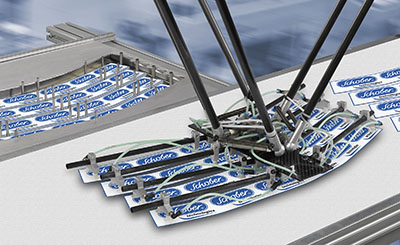 Specifically designed for precise stacking and counting of products up to 28.5 in. in length (724 mm), this new delivery technology can be used inline with its RSM Offline Die-Cutter for IML labels and other discrete cut products. It is also ideal for nested product configurations and different profile jobs that have been ganged together into one print repeat. Speeds of up 50 cycles per minute can be obtained.
In additional installation news, the company announces the successful implementation of its fourth RSM, with a working width of 850 mm (33.46 in.), into North America. These high-speed rotary die-cutting machines are ideal for a wide range of papers, films, and foils including OPP, PE, PS, and PET films, coated paper laminates, and composites as well as technical nonwoven materials.
This email address is being protected from spambots. You need JavaScript enabled to view it.