Published: December 15, 2015
WÜRZBURG, GERMANY | HP announces the HP PageWide web press T1100S, co-developed with KBA. Press is said to reinvent corrugated packaging printing for high-volume, digital preprint applications.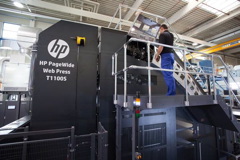 "Converters and brands alike need to create more targeted, effective packaging while reducing costs," says Eric Wiesner, general manager, PageWide Web Press (PWP) division, HP. "HP and KBA have combined forces to bring the world's most productive press to market, offering more value to high-end converters with the efficiencies of pre-print and digital in one press."
DS Smith Packaging is the first customer to install the 2.8-m-width (110-in.) press, which reportedly can deliver significantly higher productivity and production flexibility than traditional analog technology.
"We selected the new HP PageWide Web Press T1100S as the next step in our digital preprint program," says Stefano Rossi, CEO, DS Smith Packaging Division. "Our co-development with HP has resulted in the first digital machine able to print at the speed and width we need for high-volume corrugated production. It will provide our customers with unprecedented short-run flexibility and quality consistency."
The company says the HP MLPA splits the web into multiple print lanes, so different jobs, with different box sizes and run lengths, can be printed in the individual lanes. Multiple ultra-short or short runs can be queued and printed together, with no makeready between jobs, while a long run is printed in another lane. HP MLPA, coupled with the advantages of digital printing, allows cost-effective customization and personalization of corrugated packaging, meeting the demands for shorter print runs without having to create inventory.
The press prints at speeds to 183 linear mpm (600 linear ft) and 30,600 sq m/hr (330,000 sq ft).
Company says with enhanced priming options include a combination of HP Bonding Agent, HP Priming Agent, and four-color HP A50 aqueous pigmented CMYK inks, customers can print offset-quality on standard uncoated and coated liners from 80-400 grams/sq m (GSM), for greater cost savings, versatility, productivity and quality with high color saturation, dark black optical density and crisp text. In-line and near-line coating solutions for HP Priming Agent and aqueous overprint varnishing are also said to provide outstanding print quality to help meet the highest brand standards.
Optional configuration features include auto-splice/turret rewind, primer and over-print varnish coating solutions, as well as the KBA PATRAS "Automated Paper Logistics System."