Published: July 11, 2013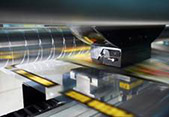 SUSSEX, WI | Press controls manufacturer QuadTech and flexo packaging press maker Soma Engineering, Lanskroun, Czech Republic, have reached an agreement to include in-line, automated, continuous inspection systems on SOMA central impression (CI) flexo lines. The solution comprises QuadTech's Inspection System with SpectralCam, PDF Verification software, and a Waste Management System, which communicates with the Soma slitter/rewinder to accurately remove defects from the printed web.
The Inspection System with SpectralCam provides 100% defect inspection and true spectral color measurement using a 31-channel spectral sensor. The system can measure multiple color targets and then analyze the data to ensure that there is no deviation from the target aim points. The result is greatly reduced waste.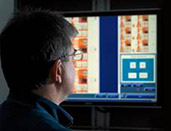 The PDF Verification technology uses the customer-approved digital artwork file as a fixed point of reference against which printed work is compared. This enables the operator to detect cylinder set-up or plating errors. The Waste Management System highlights reject zones within the roll, enabling the slitter/rewinder to pause operation, for easy, accurate material removal and splicing, without the need for manual detection or waste-tagging.
Press operators will be able to reduce setup times and manual input, while achieving improved print quality, color consistency, and waste reduction.
The benefits of the partnership were demonstrated during the drupa 2012 exhibition. In a live demonstration, a Soma press with QuadTech's Inspection System with SpectralCam and DataCentral reporting software achieved perfect color and register within a couple of repeats on start-up.
Petr Blaško, Soma Engineering's marketing manager, comments: "Soma identified that brand owners need spot colors to be printed within required specifications. Together with QuadTech, we introduced the Color Management system at Drupa 2012 and are continuously working on improvements. As the quality requirements of print rise each year, it becomes necessary to invest in web inspection or color measurement equipment as well as web viewing. Due to its long print industry experience, we value QuadTech as a highly qualified expert and partner in the field of print inspection."
QuadTech product manager John Cusack says, "Our collaboration with Soma gives users of Soma CI flexo press users fully automated, in-line vision inspection and spectral color measurement capability, providing the basis for a lean operation and the reassurance of highest quality print on the most challenging film substrates."