Published: April 02, 2013
CAMARILLO, CA | ADVANCED Motion Controls announces performance and cost benefits of EtherCAT servo drives with DxM and DxI/O technology.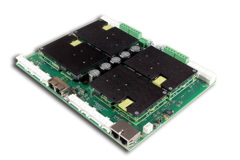 The technology expands control to up to four axes of motion plus an additional 280 I/O points while reportedly maintaining the same 100µs update rate performance previously only achieved in single-axis systems. Company says technology results in cost savings because only one EtherCAT slave node is needed to control up to three less expensive sub-nodes (DxM Technology). Additional cost savings come from eliminating the need for expensive 3rd party network I/O modules (DxI/O Technology).
DxM and DxI/O technology is said to deliver peak performance and offer scalability only previously found in larger, customized, highly dedicated industrial machines. Application solutions are now available for smaller machinery and desktop equipment where panel space is a premium or not at all available.
This email address is being protected from spambots. You need JavaScript enabled to view it.