Published: August 24, 2010
This email address is being protected from spambots. You need JavaScript enabled to view it. has a pride in his company that's classic American entrepreneur. After years at a leading label machine builder, he founded Drilling Technical Services (DTS) in Milford, OH, a virtual engineering company specializing in the mechanical, electrical, and process engineering of mid-width and narrow web printing, drying, converting, RFID, and digital print equipment. DTS has a particular emphasis on web transportation, die-cutting, and laminating solutions.
As the installed base grew and responding to current market conditions, Joe founded a second company, Pre-Owned Press & Parts Solution LLC (POPPS), also in Milford, specializing in the evaluation, reconfiguration, remanufacturing, sale, commissioning, and servicing of pre-owned presses. Another vital component of the business models at both DTS and POPPS is the engineering of energy recovery systems for containment of utility costs, an ongoing challenge in the printing industry. 
The two companies primarily serve the needs of the flexible packaging, folding carton, tag and label, health and beauty, wine and beer, plus other label segments.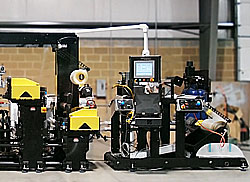 During a recent project for one global leader in label and filmic product solutions, DTS was commissioned to develop a mid-width web roll-to-roll die-cutter with various unique substrate manipulation functions. The substrate's physical parameters, especially the desire to reduce material thickness, represented particular challenges to the DTS team.
DTS utilized its "QC Mod Cut Series" modular web transport system and quick-change die cassette technology as the design platform.
Every aspect of the work was to be done to the customer's strict system specifications for equipment criteria, including die-cutting accuracy, line speed accuracy, tension control, and wound roll precision (http://pffc-online.com/web_lines). These process functions were to be controlled by the machine's Human Machine Interface (HMI).
The first machine was required from DTS on a short time schedule for the customer's showroom, and then the customer was providing a second machine along with its branded substrate materials to the initial end-user. Long-range plans call for this machine to be implemented into a worldwide marketing effort by the DTS customer. 
Choosing a Supplier
Based on previous experience with Siemens, the DTS engineering team looked to integrate electronic line shafting and process control functions that could be achieved with standard component architecture. Having a local and experienced distributor of Siemens components, Richard Equipment Co. (RECO) in Cincinnati, the investigation into a process solution began. As Joe Drilling further noted, "The worldwide support of Siemens was an additional factor in our decision and really gave us that comfort zone in selecting them for this project. Our customer is itself a world player, and so we felt confident in Siemens' ability to provide components and service, wherever needed."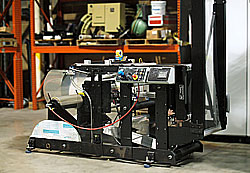 To achieve the desired accuracies in every machine function, DTS utilized the Siemens Simotion D435 motion controller, a compact, drive-based platform that incorporates motion control, logic control, and drive control in a single hardware unit for drive mounting. In this manner, the drive became the control for the entire machine's functionality. Feeding off this platform are the multi-axis control drives of the Siemens Sinamics family, as well as Simatic I/O components and runtime software, plus the related HMI hardware, as supplied by RECO. 
Components were selected by the DTS engineers using the unique Siemens Converting Toolbox, a suite of product specifications and application software that allows an engineer the flexibility to customize portions of a machine build, then recall and reuse them or make modifications for subsequent builds. The reduction in subsequent machine design engineering time, according to Joe Drilling, reached approximately 80% on the second machine, and he anticipates a repeat of that scenario, every time. 
These factors were found most satisfying for DTS and especially its customer, which had previously used a vendor for machine upgrades who typically took months, even years, to research, develop, and implement design changes in the customer's machine lines, according to Drilling. "With our more simplified layout of components and the flexibility we enjoyed with the Converting Toolbox, the learning curve shortened tremendously. Product and Matrix winder modules were configured to allow the diverse web tension ranges and accuracy required. And most of all, the shaftless drive system we implemented allowed our web transport roll design on the individual machine sections to become much easier, faster, and completely repeatable." The end result is very accurate web control and re-registration capability.
Joe Drilling concludes, "The marriage of Siemens motion control technology, their overall expertise in the converting industry, plus our engineering and build talents really worked to benefit our customer, who has been quite satisfied with machine performance to date." 
Siemens system training and project development took place on-site at DTS.