Published: January 14, 2013
SARATOGA SPRINGS, NY | TandD Corp. has introduced the wireless data logger RTR-507/507L, a new model in the RTR-500 Series, said to enable wide-range, high-precision measurements of temperature and humidity.
Company reports it has achieved a humidity measurement accuracy of ±2.5%, as well as wide-range temperature measurements from –30 to 80 deg C and humidity from 0 to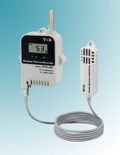 99%RH.
By using the RTR-500 Series Base Unit, the recorded data in the RTR-507 can be collected via wireless communication and also can be used for data monitoring, warning monitoring, and data management through networks to construct a data logging system to match the needs and environment of the user.
The logging capacity of the RTR-507 is 8,000 data sets consisting of both temperature and humidity. A second model, the RTR-507L, is available offering an extended life battery.
This email address is being protected from spambots. You need JavaScript enabled to view it.