Published: April 30, 2018
HINGHAM, MA | GMG, a developer and supplier of color management software solutions, will be focusing on its OpenColor 2.1—the most recent version of the past Flexographic Technical Association (FTA) Technical Innovation award recipient—and color-accurate prototypes using the Epson SureColor S80 Series printers during the 2018 FTA INFO*FLEX, held May 7–8 at the Indiana Convention Center in Indianapolis. INFO*FLEX 2018, co-located with the FTA Annual Forum, is expected to attract more than 2,000 professionals.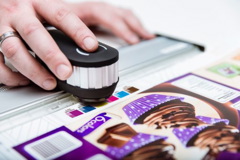 "GMG is providing brand owners and converters color management to assure their packaging preserves consistent and accurate color," says Paulo Monteiro, VP Sales, GMG Americas. "OpenColor separation profiles allow package designers and prepress companies to simulate different color combinations and production variables without having to go on press to check the results. Just as exciting will be a demonstration of how to produce consistent, color-accurate prototypes using GMG ColorProof and the Epson printer.
Company says OpenColor provides a proofing technology that precisely predicts the color appearance of printed inks, particularly 'overprints'—inks printed on top of each other without requiring extensive fingerprinting. OpenColor can also create multichannel profiles to separate jobs from a certain number of colors to any other number colors; for example, from RGB to seven colors.
OpenColor 2.1 enables the measurement of full-tone patches from a print control strip, or even solid patches and tint patches on the running printed sheet and to create a profile from the captured spectral data. System also includes a detection tool for optical brighteners.
OpenColor has connections to third-party applications. E.g., it can connect to PACKZ to deliver its dynamically created GMG profiles. With a direct connection to the GMG ColorPlugin integrated in Photoshop, OpenColor reportedly offers a predictive, on-the-fly profiling for layers and/or selections, from CMYK to any combination of process colors and spot colors. The new ColorPlugin 1.3 provides RGB-to-multicolor separations (to seven colors) and is said to make manual color corrections and workarounds redundant.
"Between the digital printer and our GMG color proofing software, we believe we are offering, for the first time, color-accurate package press proofs," says Monteiro. "Rather than providing clients a rough prototype, they can see exactly, with accurate color, what the final product will look like, matched to the press." [Our company] can deliver the complete package: the digital printer, the software, the substrate, inks, and installation along with a choice of 26 different materials including shrink film and folding carton board."
This email address is being protected from spambots. You need JavaScript enabled to view it.